IC08 hero signed by Gold Coast FC
Friday, January 30 2009 @ 01:40 am ACDT
Contributed by: Brett Northey
Views: 4,654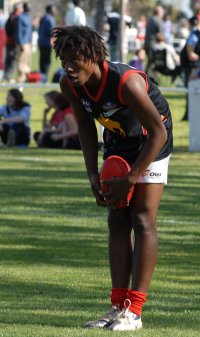 In some respects the breakthrough that many of us involved in international footy have been awaiting has occurred. Papua New Guinea's International Cup hero, 17 year old Amua Pirika, has been signed by the Gold Coast Football Club, the proposed 17th club in the Australian Football League.
Pirika first came to prominence when he kicked three goals for PNG against a Queensland Colts side in the Queensland Under 16 championships in 2007. In 2008 he played for Nambour in the AFLQ Northern Area U18 competition, booting a league leading 65 goals. At just 17 he finished equal 11th in the 2008 Australian Football International Cup best player voting, and was 3rd in the goalkicking with 15. That included 4 in the semi-final against South Africa, previewing his grand final form.
Originally listed for IC08 as 184cm, he was obviously in a growth spurt as he was soon quoted at 190cm - certainly he played tall in the Cup grand final at the MCG (Mozzies at last in MCG thriller), taking several strong marks in an unstoppable burst, booting four goals in total to drag the Mosquitoes to a come-from-behind victory. And for tens of thousands of fans gathering for the following match, an AFL final between the Western Bulldogs and Hawthorn, he provided a great highlight, curling a check-side goal through the big sticks after the siren to put the icing on the cake of PNG's 8 point win.
In September '08 worldfootynews.com's Rod Shaw interviewed PNG National Operations Manager Peter Cates and asked who he thought might attract AFL interest - the answer was John James and Amua Pirika (see PNG - where to now?). Pirika's father played Australian football and was close to Navu Maha, a joint winner of the player of the tournament award at the 2005 International Cup. The Gold Coast's latest recruit lost his father to a stabbing many years ago and has been mentored by Maha and Overa Gibson, both PNG champions. There was a classic moment in the IC08 grand final that transcended sport. PNG needed a spark up forward and Pirika was moved forward and the tireless Gibson swung into defence in a match-winning move that was symbolic of a passing of PNG footy into a new era.
The Gold Coast's recruitment chief is Scott Clayton, recently lured from the Western Bulldogs where he secured the signing of two Fijian athletes, neither with Aussie Rules backgrounds. He spoke with the Gold Coast Bulletin about the selection of Pirika in Coast sign PNG teen.
"He showed enough and is certainly worth a punt," said Clayton. "He can jump and he looks like he's going to be a reasonable size. It's now up to us to develop him. We're excited about it and this is just another example that we (GCFC) have an open mind and we're going to be creative."
Congratulations must also go to all the staff and volunteers involved with Australian Football in PNG over many years. No doubt all of them, such as Scott Reid and Andrew Cadzow and many others, will be feeling that their belief in the game in PNG is now being vindicated.
The Gold Coast begin their journey in Victoria's TAC Cup Under 18s this season, with the expectation they will move into the VFL in 2010 and AFL in 2011. Being on their list now is no guarantee, but gives Amua Pirika a great opportunity to have all the very best football development possible and the best chance at becoming the first player to learn the game outside of Australia and go on to make the AFL. If Pirika is successful, expect AFL clubs to start paying very close attention to Australia's northern neighbour.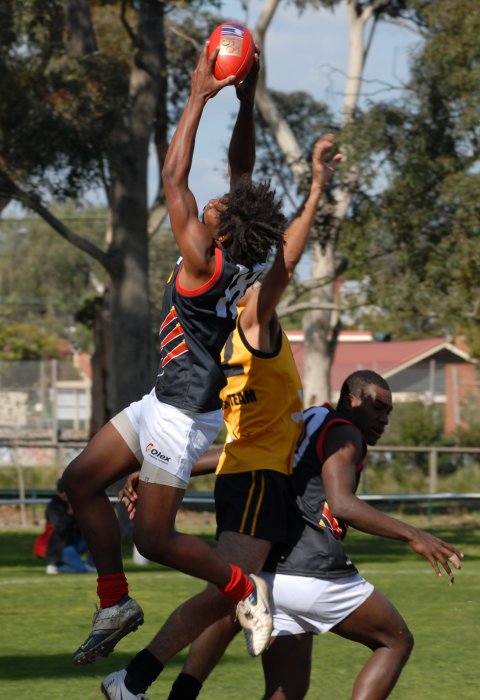 Pirika in action for Papua New Guinea against the Peace Team at IC08