Busy calendar for South Africa
Tuesday, January 27 2009 @ 07:20 am ACDT
Contributed by: Brett Northey
Views: 2,357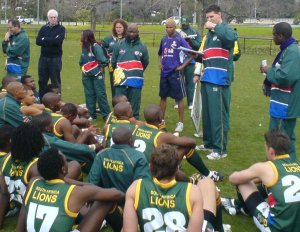 Although AFL South Africa lost its marquee event for 2009, the NAB Cup match between Collingwood and West Coast in Cape Town (now moved to Subiaco due to sponsor issues blamed on the global financial crisis), there's still a very busy schedule of exciting events planned.
worldfootynews.com spoke with Operations Manager Anthony "Joel" Kelly, Lions captain Mtutu Hlomela and North West Provincial Development Manager July Machethe, about what will be yet another exciting year for the game in this footy hotspot, which includes tours by the Australian Institute of Sport (AIS) and Geelong College, as well as a development camp by Fremantle and the launch of further programs focussed on footy, health, education and employment.
AFL South Africa have just completed (13th – 16th Jan 2009) their National Conference, which was held at Monash University – South Africa Campus. Monash is based in Melbourne, Victoria, but opened a South African campus in Johannesburg in 2001. Machethe explained that the conference attendance included 10 footyWILD Development Managers, 4 Provincial Development Managers and footyWILD Futures Manager.
Kelly gave a quick run down on what is planned for the year:
AIS tour – April 12-23 – feature game vs SA Lions scheduled for Sat April 18 in Potchefstroom – tour will go to Gauteng , North West and Western Cape
Geelong College return after 2007 for a circuit tour of Gauteng, KZN and the Western Cape from June 20 – July 3, 2009 – they will play Provincial teams in each Province
Fremantle FC Development Camp – Feb 12 – 16 in the North West
Provincial Championships over 4 weekends from late August – mid-Sept 2009
National Championships tentatively scheduled for Sept 20 – 26 coinciding with AFL Grand Final week
Launch of footyWILD Futures program in 2009 with pilots in at least 2 Provinces – Health, Education and Employment focus
Participation aim – consolidate and build a high-quality model – aim of 18,000 participants
Many of the AIS youth team will go on to be drafted into the AFL, so once again they will be a huge challenge for the home team, but with rapid improvement in the side it will be interesting to see how the Lions perform against Australia's best young players.
The question is whether South Africa will field a senior side, a youth side, or a mixture, as they did last time. Captain Mtutu Hlomela answers, "The AIS Team that is to tour SA will be a full AIS Team and they'll play against an Open Lions team. It will most likely be the International Cup side, coached by Jason McCartney again. We have not decided on the mix of players as yet. We'll definitely have the young players from the International Cup in the side".
Given their excellent third placing at IC08 the Lions will be looking for a very competitive performance.