South African elite cricketers introduced to footy
Wednesday, January 14 2009 @ 08:40 pm ACDT
Contributed by: Brett Northey
Views: 5,129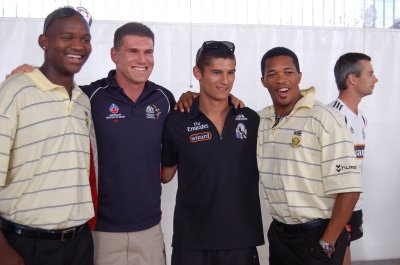 Some of South Africa's finest cricketers were introduced to Australian football and the AFL South Africa program today. Pictured above are, left to right, South Africa's Lonwabo Tsotsobe, the AFL's Jason McCartney who coached the AFL South African team at IC08, Collingwood's Sharrod Wellingham and pace bowler Makhaya Ntini.
A group of South African cricketers and staff, including Johan Botha, Makhaya Ntini, Hashim Amla and Albie Morkel, visited the Lexus Centre in Melbourne to meet Collingwood players and staff, including captain Nick Maxwell, Harry O'Brien, Sean Rusling and Anthony Corrie, as well as AFL staff David Matthews, Kevin Sheehan, Jason McCartney and Kevin Sheedy. South Africa are currently touring Australia, and although they lost the recent Twenty20 matches, they won the series that counted most - knocking off the Test champions 2 wins to 1.
According to a press release, members of the South African touring party have developed an interest in Australian Rules football having seen how the game has grown in South Africa in recent years, with 17,300 participants now registered in South Africa. Coach Mickey Arthur explained that he follows the sport having gained an interest through his name who happened to be the brother of former AFL player Matthew 'Spider' Burton. The cricketers appeared to enjoy kicking the footies around.
Amla (pictured below studying a football), already a star in Test cricket and touted as a future captain of South Africa, was interviewed on Collingwood TV (warning to international readers, Bigpond probably not available) and although he conceded (whilst dodging football's) that he was unaware of the game being played in his homeland, he could see it had possibilities. Kevin Sheedy gave the cricketers a presentation on AFL South Africa's grass-roots work and was also interviewed.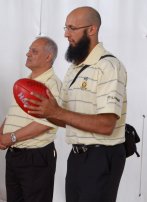 Collingwood has been working with the AFL establishing the successful footyWild program in Cape Town and is now seeking partners to grow a range of community development programs and activities including education, health and employment programs, scholarship and sports participation programs, annual community camps and exhibition AFL matches in the Western Cape.
Hopefully today's event is another sign of the growing relationship between cricket and Australian football. It's a relationship that has ensured ovals exist throughout many Aussie cities, from basic suburban fields to some of the great AFL venues such as the MCG and the 'Gabba in Brisbane - in their cases both would have existed but almost certainly without the upgrades seen in recent years.
Photos courtesy of the Collingwood Football Club.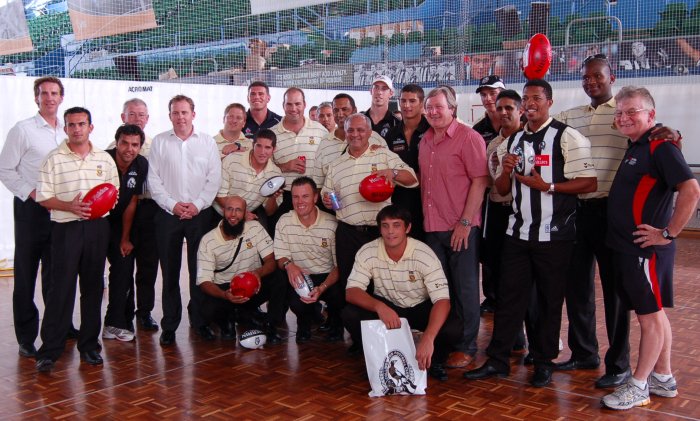 The South African cricketers, Collingwood players and AFL staff at the Lexus Centre.