Wolfpack hunt in big numbers - part 1
Saturday, November 22 2008 @ 10:38 am ACDT
Contributed by: Brett Northey
Views: 4,746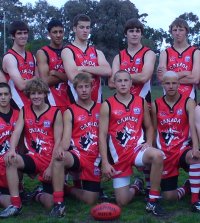 Canada's junior team, the Wolfpack, headed down to Australia in big numbers just prior to the third International Cup. In a huge undertaking 52 people made the trip, costing around $100,000 with a big effort on fundraising over many months prior.
The young players got to play four matches against Victorian school sides, attend a few AFL matches, and cheer Canada to victory in the Northwind's opening IC08 match. After that the players and their families scattered on trips across Australia before heading back home to Canada. WFN spoke to their head coach, Mike McFarlane, about the trip and what it achieved, as well as a couple of the star young players.
Planning began in November 2007 when the people running the North Delta Junior AFL in British Columbia began discussions as to where the U18 group would travel. Mike McFarlane explained their options. "We had the invitation to travel to California to play the USA or to make the effort to travel to Australia. The group felt that this was the destination for us as it was the 150th anniversary and the IC was also taking place. It would probably be the only chance this group of kids would be able to go as a team and since the majority of this team had been with the NDJAFL since day one, we thought that this trip of a lifetime for most of them would be the way we should proceed".
Fundraising began in January 2008 through the efforts of a group of 30 players and dedicated parents. "We held raffles, poker nights, 50/50's, BBQ's, bottle drives and a dance/auction. We had 2 companies step up to support us financially. Darrel Lea and Sleep Country Canada became our main sponsors. While in Australia Darrel Lea, Kelloggs, SPC Ardmona, Sydney Swans, Hawthorn Hawks, Port Melbourne FC, the AFL and Tourism Victoria helped us with product and support. In the end we had 24 players and with parents and siblings our touring party numbered 52. We estimate that our end cost was between $90,000 and $115,000".
The coach nominated several players as having performed exceptionally well, and we spoke to a couple of them. Justen Oertel (pictured with the team, front row, sixth from left) plays a range of positions including half back, half forward and on the ball. He was introduced to the game around six years ago. "I got into the sport through my coach Mike McFarlane, he did programs at my elementary school and eventually all of us kids got him to start up a league in our town". It was his first trip Down Under. "The best part of the tour was playing all the teams there and getting a better aspect on how the game is played. The ball movement by the teams there was nothing like I have ever played against, it was great". And it seems the sport has Justen hooked, at a young age already with several years playing in the seniors in British Columbia for the Burnaby Eagles. "In the future I would really like to travel back to Australia and have a go at playing down under for some senior teams there".
It wasn't the first experience of Australia for team-mate Chris Harbour. He was born in Frankston in Melbourne, but moved to Canada five years ago and has started playing in the Ontario league and hopes to make the Northwind one day. Chris mostly roved for the Wolfpack, and found a wide range in standard from his opponents on the tour. "It really depended on the team, but there was always the exceptional players on each team. The standard of play depending on the team was a little better or worse than what I expected". Chris lives in Mississauga, just outside of Toronto. "I play for the Etobicoke Kangaroos senior team, we currently won the OAFL Grand Final by one point".
Five matches were originally schedule, but St. Bedes cancelled the day of the game, so the Wolfpack consider it a win as they wonder if the opposition weren't up for the battle. Coach McFarlane described their first outing. "Our first game was against Ivanhoe and we were very unlucky to lose as we led up until the final 10 minutes and only lost by 9 points and we ended up kicking 17 behinds. We also had to give them a couple of players as for some reason a couple of their players were worried that we were just going to come out and try to hurt them. Maybe they thought we were going to bash them like they may have seen in some ice hockey videos. Also one of our players kicked their go ahead goal in the 4th quarter".
McFarlane said the second game against De La Salle had the worst conditions the players had ever faced due to the heavy rain and mud. "It took them the first half to figure things out. We were even with them in the second half and ended up losing by 4 goals. The third game was against Healesville and again the conditions were terrible and it ended up being our worst loss of the 4 games. However once again our boys never quit and we kept even with them in the 2nd half. We were complemented by the umpire as to how we did not quit the entire game and played a fair and hard game".
After some narrow losses the boys would have been tiring but desperate for win. But match four was to be their toughest, up against a combined Port Colts and West Footscray side. "It was played in the best conditions we had and after getting the kinks worked out after 3 games in 5 days our boys played their best game of the 4. In fact they out scored them in the 2nd half. We ended up losing by 6 or 7 goals but the boys were hyped to play again as they finally felt that they were playing to their potential".
Clearly the standard of the opposition didn't blow them away, and the coaching staff had forewarned them of good footballers they'd come up against. But the coaches had always wanted them to play against quality. "You need to be challenged to improve and these boys had always been the best juniors and now they know that they have work to do to improve their skills. But the best compliment we were paid during our trip was that if you didn't see the maple leaf on their guernseys you would not have known that these kids were Canadian".
And proving the footy tourism could be a growing business ofr Australia, both before and after the matches in Melbourne the players and families spread out across the country, with the major cities that were visited being Sydney, Adelaide, Brisbane and Cairns. Other places visited included Uluru, Alice Springs, Cape Tribulation and Port Douglas. Keeping to the sporting theme, some of the activities that were tried included surfing, parachute jumping and scuba diving. In keeping with McFarlane's family connections with the Swans, his daughter ran out as one of the mascots for Sydney against Collingwood.
According to McFarlane, "The comments from the families were all positive. Most say when they go back to Australia not if. We were treated so well by all of the teams that we played and when we ventured into the city most of us were delayed at one point to talk about why we were there and how they thought it was great that we were playing footy in Canada. The hospitality that was shown to us was above and beyond what could have been expected. These groups that we were involved with could not do enough for us and most felt they should have done more. Our group hopes to be able to repay the kindness we were shown on day".
This interview will continue in another article in a few days, with tentative plans for Canada to bring a junior team back for a tournament during the next International Cup.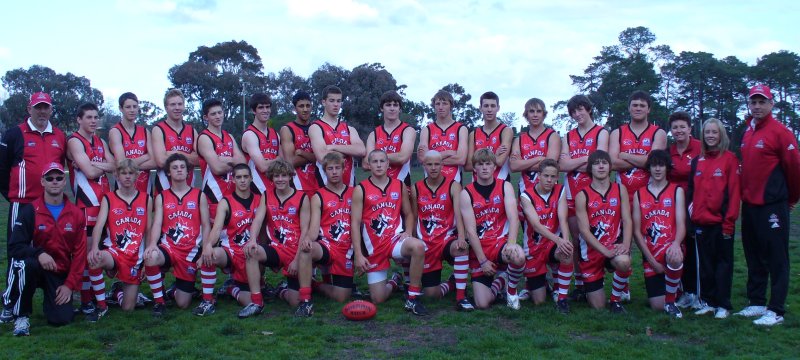 The Wolfpack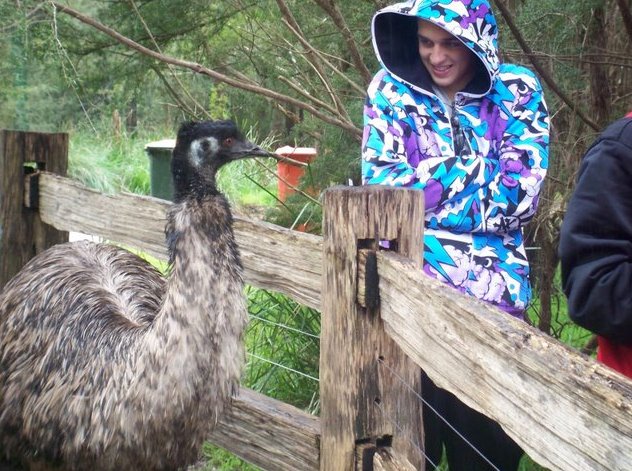 A local (an emu) meets a wolf.