African Footy spreads to Zimbabwe
Wednesday, October 15 2008 @ 12:25 pm ACDT
Contributed by: Aaron Richard
Views: 2,716

Australian football and Zimbabwe have recently been back in the news after a few years' hibernation. The recently reformed and renamed Australian Football Zimbabwe has plans in place to see junior footy clinics begin in the first half of next year, with the creation of school teams and a men's national team in the pipeline.
We spoke to AFZ's Larry Ferrier about the program's development so far.
Warrnambool native Ferrier first made attempts at starting footy in Zimbabwe a few years ago. As he tells us, "I first taught some kids about footy when I was living over there with my wife, who is Zimbabwean, in 2003/2004. Maybe around 20 kids had a go, it was a bit hard since we only had one footy, but they still loved having a kick and fighting each other for the ball."
The program made headlines in the international footy community, but then went into hibernation until this year. Ferrier says "I felt that at that point, although I had done some planning, it wasn't exactly where I wanted it to be. With the extra time I've spent planning AFZ, I've been able to put a lot more emphasis on the social aspect of improving people's lives through Australian football, and in particular have been able to fine tune our Children's homes and Street Kids programs, as these are the ones that are closest to my heart."
"To be able to spread Australian football internationally is fantastic, but to be able to also do everything you can to show people you care and help to empower them to live the best life possible is on a whole other level. If you can do this, then everything else will follow - participation, love for the game."
Ferrier's first step will be to hold initial clinics with primary and high school students, followed by the organisation of 'footy camps', where students will spend a few days focussing on football, including not just skills training but also nutrition and sport psychology. Camps will also include field trips to give kids an opportunity to do things they wouldn't otherwise experience.
Ferrier adds that "once clinics have been conducted and players have had sufficient time to train and practice their skills, we'll be looking to start some inter-school games which will also add motivation to people to try this new sport."
"We've basically finished the planning process for exactly how this will be done. Due to the difficulties that have been facing the country we haven't yet been able to implement these plans but I'm hoping to do this in the first half of next year. I've got family in Zimbabwe, so that will definitely help in terms of getting in touch with schools and so on in order to start clinics and be able to use facilities. Basically, all plans are prepared, we now just need to put them in place."
One main stated goal of the program is the formation of a national team, the Zimbabwe Crocodiles, to play against South Africa.
Ferrier says "on an organisational level, I haven't had any contact with AFL South Africa. However, Brian Clarke did help me to speak to Mtutuzeli Hlomela, who I believe has been absolutely vital to the success of football in South Africa with his passion and dedication for the game, not to mention his talent and consistency on the field."
"We both have a mutual desire to use football to make positive social change and I look forward to working with him whenever possible to help football in Sub-Saharan Africa as much as possible."
He is also seeking sponsorship, with existing business links between Zimbabwe and Australia. Zimbabwe has the world's second largest platinum deposits and the mining sector has a number of connections to Australia. "We're going to be doing programs not only in schools, but also in orphanages as well as a program designed for homeless street kids which will allow these children to have access to nutritious food and nurses to help assess any medical problems they may have."
"Our program will be based around the premise of using Australian football to promote positive social development and empowerment and I believe that a sponsor of such a program would get tremendous value from this."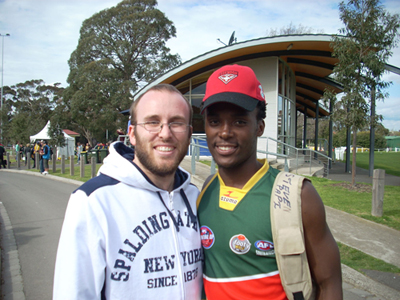 Larry Ferrier and South African vice-captain Steven "Papi" Malinga at the 2008 International Cup in Melbourne.