France win inaugural "World 9s" in Catalonia
Thursday, September 18 2008 @ 11:05 am ACST
Contributed by: Aaron Richard
Views: 9,758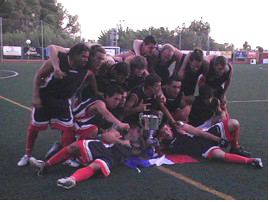 France, Catalonia, Spain, Argentina, Senegal and Andorra met in the Catalan city of Valls last week to compete for the inaugural "9-a-side World Cup". France and Catalonia went through the pool stages undefeated, had big wins in their semi-finals, then finished with a tight contest in the final, with the French ultimately succeeding 9.6 (60) to 6.4 (40).
Catalonia kicked off the tournament last Thursday with a narrow victory over Senegal, trailing for most of the game only to pull ahead in the last few minutes to win 9.8 (62) to 9.6 (60). This was followed up by defeating the Argentines 11.9 (75) to 10.10 (70), seeing the Catalans finish head of their pool.
In the other pool, France backed up for two games on Saturday September 13, defeating the Spain Bulls 9.9 (65) to 4.4 (28) and Andorra 9.7 (63) to 3.6 (24). In a game which would decide who would be relegated to 3rd place in the pool and therefore miss the finals, Andorra defeated Spain 5.8 (38) to 4.4 (28).
In the semis held on Sunday, Catalonia demolished Andorra 15.4 (94) to 2.5 (17) to set up a clash in the final against France, who defeated Argentina in similar fashion in their semi-final 11.12 (78) to 1.2 (8).
The final saw the French too strong, with rover Fabien Mailehako kicking 4 goals, helped by further goals to Joevin L'Hotelier, Nicolas Colomb, Alexis Schimpf and Ludovic Galiana, eventually running out 9.6 (60) to 6.4 (40) winners. Top goalscorer for the event was Mickey Rodriguez from Catalonia with 19 majors for the tournament.
The event will likely next be held in 2010, with Catalan footy pioneer Pere Moliner naming Senegal in West Africa as a possible host. The Senegalese and Argentine teams were drawn from nationals of those countries resident in Catalonia and playing in the LFAC, with this link seen as a way to bring the game to a new part of the African continent. Andorra and France are also slated as possible candidates.
France, Spain and Catalonia will shortly be backing up for an appearance at the EU Cup in Prague, with the Catalans to play at least one further friendly against Senegal in the lead-up.
A TV news report on the final (in Catalan) is available here.