Brilliant Nauruans overrun improved Canada
Monday, September 08 2008 @ 11:25 pm ACST
Contributed by: Stephen Alomes
Views: 4,464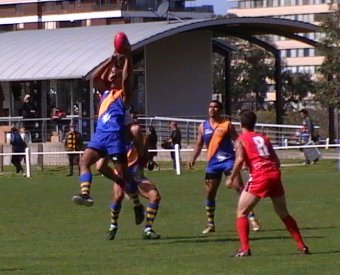 Additional reporting by Brett Northey.
The faster and more skilful Nauru overran a Canada which did not give up at Ransford Oval on Friday in their classification match to decide the admirable finishing positions of 5th and 6th.
Play on football, faster movement of the ball and faster leg speed, particularly more run off half-back, kept the Nauru team in front. The Canadians moved the ball forward more slowly, while Nauru was able to switch play effectively against their bigger opponents.
Perhaps the difference was the greater urgency of the Nauruans although Canada came back with goals in the last quarter, until a Nauruan 60 metre goal, ironically with the assistance of the slight north wind, stemmed the Canadian advance.
For the victorious Chiefs, outstanding were David Daigiaro and Timothy Teabuge while Kevin Minaker and Stefan Leyhane were amongst the Northwind's best. The Nauruans were just too fancy - hard bodied but with brilliant sidestepping and firing out handballs to running players.
There's no doubt that the Canadians have taken another step in their development, and 6th spot from 16 teams in an improving competition compared with 7th from 10 countries in 2005 is a good measure of their improvement - better fitness, more natural ball movement, some dangerous forwards and a World Team ruckman (Matata) when last time they had a host of injuries to their big men.
However in this match they ran into probably the tournament's biggest surprise. Nauru finished 8th in 2002, missed 2005, and has had no league for the last couple of years. There are plans to change that, but it makes their performance all the more impressive. It's clear they are blessed with natural talent, but the time 17 players spent playing local footy in Victoria leading up to the IC08 can't be under-estimated. But even better, as the tournament progressed their decision making and teamwork steadily improved. By the final match, for long periods, they were playing as good football as any of the teams. In fact they only lost one match all tournament - their opening game against eventual champions PNG, who they pushed early.
Both teams are on the rise and if they can keep similar programs going should field very good teams next time.

Nauru
Goal Kickers: D. Baguga 2, P. Dame 2, J. Dagiaro 2, A. Amwano 2, T. Teabuge, P. Agir, C. Engar, A. Eobob
Best Players: A. Amwano, T. Depaune, J. Dagiaro, T. Teabuge, D. Baguga, M. Batsiua
Canada
Goal Kickers: S. Fleming 2, J. Maitland, M. Pareja, M. Lovett, C. Buczkowski, C. Cunning
Best Players: K. Minaker, M. Pareja, M. Lowden, T. Dimacakos, J. Sone, F. Luisser


| Canada | | Nauru |
| --- | --- | --- |
| 2.3 (15) | 1/4 | 2.0 (12) |
| 2.4 (16) | 1/2 | 5.5 (35) |
| 4.6 (30) | 3/4 | 8.6 (54) |
| 7.7 (49) | Full | 12.8 (80) |