Bulldogs Too-too good for Samoa
Monday, September 08 2008 @ 11:55 am ACST
Contributed by: Ash Nugent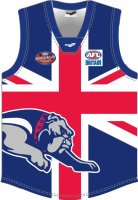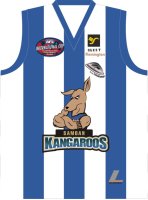 Great Britain triumphed against Samoa in one of the three early classification matches at Royal Park last Friday. The day saw each country compete to decide their final finishing positions at the 2008 International Cup; in this case ninth and tenth spots.
Ironically three years earlier at the previous tournament Samoa beat Great Britain to clinch fifth spot. Whilst both countries have suffered a slide down the ladder, if anyone needed convincing that the standard of play has improved, this British side was arguably better than their previous two, and they played a Samoan team minus current World Team representative Fia Too-too (who returned to Samoa suddenly for family reasons) and many of their Australian-based players from previous International Cups.
Round five of the tournament began earlier than the previous rounds, to allow all games to be completed before the Grand Final's twilight start at the MCG. No doubt players from both sides were a little weary-eyed by the early start, with the AFL's "Dinner With The World" function held the night before.
The weather must have been a welcome reprieve from the cold of Warrnambool, with the sun breaking through early. The match began and the British took an early lead. By quarter time this had stretched to nineteen points, the Kangaroos limited to one behind.
The Samoans lifted a little in the second quarter but were inaccurate in front of goal, only able to add four more behinds. The distance the Samoans could get off their boot was impressive however; more remarkable when Game Development Officer, Michael Roberts revealed that it was the squad's weak-point pre-tournament. Their inaccuracy did cost them in the second quarter though, with both sides having four scoring shots, but the British increasing their lead to twenty nine at the main break.
Too-too's absence was always going to make the match more difficult for the Samoans but like in their previous match, nineteen-year-old Tonga, who was unlucky to miss out on World Team selection, rose to the challenge. The Kangaroos finally got a major on the board, but the British added two and led by 35 heading into the last quarter.
By the end of the match, the final margin was forty points, a solid win to the team from Great Britain, who erupted into celebration, and posed for a group photo following the win. The British were simply too strong on the day, and whilst the ball spent considerable time between the two fifty-metre arcs, when the Bulldogs got control of the ball and moved it into their forward line, they converted with greater ease. The Samoans' inaccuracy didn't help the scoreline, although even had they kicked straight, the British appeared the better side. A gutsy effort by the Bulldogs to bounce back in this tournament after their early loss to Nauru consigned them to the 9th to 12th positions.
Roberts, who now returns to Australia after more than two years in Samoa remained upbeat about the team performance, and stressed that they still finished two spots higher than their own prediction. His main disappointment was that more of Samoa's talented juniors couldn't join the team and have a chance to impress AFL scouts. For some countries who send teams to Australia, it's simply too hard to overlook an older player that can contribute financially to their trip, even when a younger and more athletic player might have a greater impact.

Great Britain
Goal Kickers: E. Doe 3, E. O''Connor 2, A. Whiteaker, J. Boyle, A. Swift
Best Players: D. Mitchell, L. Matias, N. Stevens, J. Ford, J. Boyle, A. Swift
Samoa
Goal Kickers: E. Tinetali
Best Players: S. Faaee, S. Sale, M. Leusogi, S. Faauliuli, T. Sale Pao, K. Aukuso


| Great Britain | | Samoa |
| --- | --- | --- |
| 3.2 (20) | 1/4 | 0.1 (1) |
| 5.4 (34) | 1/2 | 0.5 (5) |
| 7.6 (48) | 3/4 | 1.7 (13) |
| 8.9 (57) | Full | 1.11 (17) |




Apologies for having no photos from this game. If anyone has some they would like to send in they can do so to temp {at} worldfootynews.com

Comments (0)
---
World Footy News
http://www.worldfootynews.com/article.php/20080906151914602