NZ vs PNG - International Cup Grand Final re-match should be a classic
Friday, September 05 2008 @ 02:35 am ACST
Contributed by: Brett Northey
Views: 2,658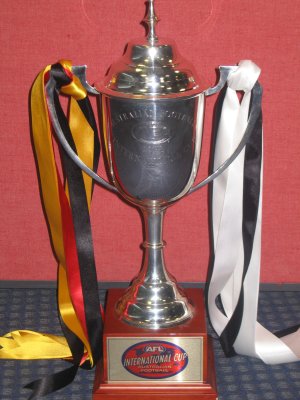 The 2008 Australian Football International Cup draws to a close on Friday night with what should be an epic contest at the MCG from 5:10pm between New Zealand and Papua New Guinea as a curtain-raiser to the Hawks versus Bulldogs AFL final.
These proud teams contested the 2005 Cup, with the Falcons just a few goals too strong for PNG. That match was all about New Zealand's structured footy against the Mozzies' run and evasion. This clash could be seen the same way, but the Kiwis have added more run and carry themselves, now having a more complete game. For their part the Papuans seem to have found a few taller forwards who, though young, offer promise and the occasional mark from a get out of trouble long kick.
In their respective semi-finals in Warrnambool both were impressive. The Papuans were, remarkably, too quick for the pacy South Africans. Their superior body strength saw them break too many tackles and slowly pull away to a good win. The scoreline between New Zealand and Ireland was very similar, but came about very differently. The Kiwis were simply outstanding in the opening 15 minutes of the game, moving the ball with precision and passing to forwards leading into open space - it was over by quarter time and the rest of the match was just a formality as they held their ground.
Against PNG they will be beaten to the ball far more often and if they start having to chase jumpers they could be in trouble as they won't catch them. However the ball use by PNG still hasn't quite impressed the way it might be expected to given they have many of their players on scholarships in Queensland. If they are inaccurate going forward the Kiwis will pick off the ball and make them pay on the rebound, especially if the Mozzies fail to fill the hole in front of the forwards.
It's that scenario which leads me to tip New Zealand to go back to back, becoming the first nation to win two International Cups. The big stage of the MCG will suit the Mozzies in terms of space to run, but the added pressure of the occasion may hurt their cause, and any erratic sideways possessions could see them lost in the vast expanses of the ground.
Expect a fast match which will be very close, with completely different styles. Superior delivery of the ball to the Falcons' key forwards might just get them over the line, even with slightly less than 50% of the play. New Zealand by 10 points, and heartbreak once again for PNG.

2
Which captain will hold the trophy aloft?