First round finals promise 8 great contests
Wednesday, September 03 2008 @ 09:43 am ACST
Contributed by: Brett Northey
Views: 3,057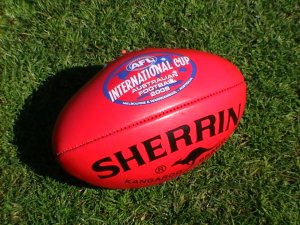 The fourth series of matches in the 2008 International Cup, currently in Warrnambool, sees teams that finished in the same position in their respective pools taking each other on (e.g. fourth in Pool A plays fourth in Pool B). This means there should be some very evenly matched sides playing off, building towards the semi-finals in the evening that will determine which two nations head to the MCG on Friday for the IC08 Grand Final.
The good news is that the weather for the first round finals, on Wednesday 3rd September, is predicted to be fine and 14 degrees, and if the wind stays down that would make it much warmer than for the games last Monday. The bad news is that the overnight minimum is forecast as zero degrees Celsius, and with matches scheduled at 5:30 and 7:30pm, players and spectators will definitely be feeling it.
The tips have been a bit off course of late, with the two predicted close games going the "wrong" way last round. With so many teams to get around to see, I'm passing the buck and blaming bad scouting. For what it's worth, I'll soldier on with the next round.
The first time slot is 1pm and India versus Finland on what could be considered the main ground, Reid Oval, which is better sheltered from the wind. The Finns showed some promise in their last match, scoring a couple of goals against a slightly under-strength Sweden, whereas India really struggled to string together possessions against Japan. The Icebreakers are very inexperienced and injuries and a small squad right from the start have hampered them, but unless that situation deteriorates further, they should beat the Indians who are even less experienced in footy. Finland by 50 points.
Walter Oval, the next best location, has an intriguing battle between surprise packets Nauru against the devastated US team. The Americans came to the Cup looking to win it and their loss to South Africa knocked them out of contention and rocked the side. A big question is whether they will rebound mentally in time for this match. Either way, their islander opponenets have been very impressive, pushing two-time runners-up PNG and knocking off Great Britain with surprising ease. The Americans have lacked the physicality expected of them and in hindsight they did say they had brought a better running side - perhaps at the expense of being able to intimidate over the ball. The Chiefs won't be phased either way. A US Revolution loss would send them tumbling further down the rankings and prompt some introspection, but Nauru's form is too hard to ignore. Having tipped the US against South Africa and getting burnt I'm jumping off the bandwagon. Nauru by 12 points.
Mack Oval, up the top of Warrnambool's Albert Park, has Samoa versus Sweden. The Kangaroos didn't look too good against Japan but were solid against the Kiwis, while Sweden showed they can play good footy when the opposition isn't up to their level. This should be very tight and could be pretty willing. Both teams have some good players but maybe Samoan Fia Too-too will stop a few too many of the Elks' forward thrusts, and set up enough play to get his country home. Maybe. Samoa by 1 point. If Too-too was unavailable then all bets are off.
3pm at Reid has the teams that finished 3rd in their B and C pools, Great Britain and Denmark. They come into this match from very different perspectives. The Bulldogs are on a downer having lost unexpectedly to Nauru but then fought out a tough loss to PNG, whereas Denmark had a good win over China and probably didn't have great expectations in their other matches. The Danes have winning form, but Great Britain looked good in their first win and in patches against Nauru. Their spirited loss to PNG suggests they are keeping their chins up and should restore some pride with a win here. Great Britain by 24 points.
Up at Walter it's a red and white battle as the Japanese Samurais take on Canada. The Canadians have been very impressive, stumbling only against Ireland in a dour struggle in which they were slow out the blocks and could never quite overcome that advantage. Japan were delighted to have a win over Samoa and guarantee a top eight spot, and man for man they may have an edge on the Northwind runners, but not in ruck and not enough enough to stop regular delivery to Canada's key forwards in Fleming and Cunning. On that basis, Canada by 24 points.
Mack Oval has the battle of the new kids on the block, the Peace Team versus China. The Peace Team have conceded 20, 20 and 28 goals, on each occasion to their 1 goal. China have conceded 20, 16 and 17 goals, without bothering the scorer at all themselves. Perhaps this points to a Peace Team win, and they have some aggressive guys that are starting to get a taste for the action, but the Red Demons seem to have them covered for a mix of heights and perhaps fractionally longer in the football system. This should be very close, with both teams to kick a few welcome goals, but something tells me the Chinese are ready to click. China by 3 points.
Then to the two big matches, both at Reid Oval. Ireland's only meeting with New Zealand in international competition was 2002 when they won their pool match at the first International Cup by 1.8 (14). When looking up that result it was interesting to recall that the US defeated South Africa 132 to 4 in the same round - yet lost to them last Monday, just six years later - how quickly things can change. But back to thinking about this game, and Ireland have done enough to keep winning, but don't seem to be able to get their running game going. This lack of fluency appears likely to come unstuck against the Falcons who perhaps also don't move it as smoothly as they'd like, but are very disciplined and structured and can match Ireland in the packs. In a way they are similar teams with reasonable runners and some good big men. They should have a good battle, but the reigning champs should be too polished and in eliminating Ireland would give themselves the chance to become the first team to lift the trophy twice. New Zealand by 25 points in the 5:30pm match.
At 7:30pm a red hot battle should begin between South Africa and Papua New Guinea. But the players won't feel red hot, with both squads unaccustomed to such cold weather. It's a fascinating dual. Most will think PNG to win with their amazing band of running players, but if there is one team in this tournament that might be able to match the Mozzies' run then it is the Lions. If we assume South Africa do get their fair share of the ball then suddenly questions must be asked about who is better in the key positions. South Africa have been very well served by their big men such as Toy Prinsloo (11 goals in 3 matches). It's difficult to see PNG matching them - they certainly can't for size, and although they will plan to run the ball, but like any team they do still bomb it forward when under extreme pressure.
Having tipped PNG coming into this tournament, I suddenly find myself on the verge of predicting them to miss the grand final altogether. In such a tight battle it means that whichever teams gets going first in the cold conditions could establish a match-winning lead. I'm thinking South Africa, but the Mosquitoes have not done anything wrong to lose my tip. Paralysed with indecision I asked my colleagues and they were also split. Wet weather would swing it PNG's way, but it isn't forecast. Based on pre-tournament expectations a South African win would be the biggest upset so far and everything points to it. But the Papuans have some real guns that have yet to really fire, surely they will now. PNG by 1 point.
So for anyone in the area, come on down to Albert Park, Warrnambool, and watch some great grass-roots footy, international style.



| Match-up | Final | Venue | Time |
| --- | --- | --- | --- |
| Samoa vs Sweden | 3 | Mack Oval | 1:00pm |
| India vs Finland | 1 | Reid Oval | 1:00pm |
| Nauru vs USA | 6 | Walter Oval | 1:00pm |
| Peace Team vs China | 2 | Mack Oval | 3:00pm |
| Great Britain vs Denmark | 4 | Reid Oval | 3:00pm |
| Japan vs Canada | 5 | Walter Oval | 3:00pm |
| New Zealand vs Ireland | 7 | Reid Oval | 5:30pm |
| PNG vs South Africa | 8 | Reid Oval | 7:30pm |