Brits brave but Mozzies have a higher calling
Tuesday, September 02 2008 @ 05:15 pm ACST
Contributed by: Brett Northey
Views: 2,769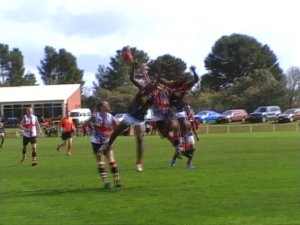 The 1pm Monday slot at Walter Oval in Warrnambool pitted one of the tournament favourites Papua New Guinea against a British Bulldog side hurting from an unexpected loss to Nauru. A big question was whether the Brits would mentally recover from their loss to give a good account of themselves in this match.
After a shaky start and wearing their predominantly white "away" strip, the answer was yes, as they attacked the contest with renewed vigour in conditions that probably suited them. The strong wind made for some ugly footy which limited the clean passing of PNG's running game. Having said that, it also meant any possible aerial superiority for Britain was extinguished.
Unfortunately that Bulldog spirit took a while to get started, and kicking with a very strong wind the Papuans effectively ended the contest in the first quarter, booting 4.4 (28) to zip. If the Poms had won the toss then perhaps they could have scored a few goals themselves and put some pressure on the Mozzies, but it was not to be.
Thereafter the two sides were pretty even, Great Britain 3.2 (20) outscoring PNG 2.5 (17). It's always difficult to judge how much effort a side is putting in once they've killed off the contest, but credit to Britain for hanging in there.
No comment was made to us, but it was obvious from the sidelines they were getting frustrated with the umpiring at times, and that has been a feature for many countries in this tournament. It's probably worth deeper discussion after the event, but the basic issue appears to be that the umpires are very keen to reward the man over the ball or in front, and very quick to pay high contact. That's consistent with the modern AFL interpretation, even though the umpires are not drawn from that pool. It's probably a reasonable guess that the new interpretations coming into play at AFL level are slowly filtering down to some Australian leagues far quicker than they are to overseas leagues, which often don't get to see a lot of AFL on television and are often umpired by expatriate Aussies who officiate the way they were umpired back home in years gone by. There doesn't seem to be an easy solution, it just means there will often be a lag in some international sides picking up the new interpretations.
The stand-out scorer for the day was Emmaus Wartovo. The 21 year old from East New Britain is currently on scholarship with Coolangatta and has even appeared for the Brisbane Lions reserves. His four goals were the difference on the day. Barry Malone from UK powerhouse West London was best for the Brits while Luke Matias, who has been honing his skills with Melbourne side Caulfield was also a strong player.
There was no doubt who the local school children were barracking for, with black, red and yellow balloons and streamers supporting PNG. It's not fair to be too critical, but there are lofty expectations for the Mozzies and they didn't seem to be as clean as they might have been. They do play a free and creative style of footy, but there's still some nagging doubts as to whether that will stand up to a well structured side that also has similar skills. The heavy reliance on 36 year old veteran Overa Gibson as their main taller player is a concern, and an injury to another tall limits them further. Encouragingly they now have several players creeping into the 190cm range, but they are 17 and 18 year olds perhaps not really ready to be thrown into full combat just yet.
Bulldogs coach Charlie Kielty was proud of his lads, saying "Good gutsy effort from the boys today. We need it after the effort against Nauru and I laid it on the line to the boys and they've brought it back". Kielty believes PNG will go close to winning the tournament, but didn't pick a winner. "They're skilful, it's a game they play all the time so they're instinctive which is great. They're very classy but we think we found a way to shut them down but we couldn't capitalise in the second quarter". He rued losing the toss and having to play catch-up football, but said "In the third quarter I was proud of the boys we were going into a strong wind and they only kicked about two points".
As with most teams the injury toll is mounting so we asked how the Bulldogs are travelling. There's two or three now unavailable for the Brits, including Johnny Sharpe from Wandsworth, who Kielty described as one of their best players but came into the tournament with a history of shoulder problems and has probably now needs surgery. Also out is Eoin O'Connor with a rib injury.
Overall the Mosquitoes got the job done against a determined opposition who couldn't match them for speed and skill. Next the South Africans present PNG with a real danger match in their semi-final, while Great Britain get a chance to re-establish their game against Denmark.

Papua New Guinea
Goal Kickers: E. Wartovo 4, P. Milaure, A. Pirika
Best Players: B. Savara, J. Ila, O. Gibson, A. Pinda, W. Aisi, D. Barry
Great Britain
Goal Kickers: B. Malone, A. Whiteaker, R. Lucas
Best Players: B. Malone, L. Matias, S. Wood, D. James, A. Swift, C. Lloyd


| PNG | | Great Britain |
| --- | --- | --- |
| 4.4 (28) | 1/4 | 0.0 (0) |
| 5.6 (36) | 1/2 | 1.1 (7) |
| 5.9 (39) | 3/4 | 1.1 (7) |
| 6.9 (45) | Full | 3.2 (20) |