Wet weather welcome in Warrnambool
Sunday, August 31 2008 @ 02:49 pm ACST
Contributed by: Brett Northey
Views: 1,972

Most of the international teams had heard that heading down the coast of Victoria for the next rounds of matches in the International Cup could result in wet weather footy, and that certainly looks on the cards.
The teams made the approximately 3 hour train journey courtesy of two V/Line services, with early morning and mid-morning departures. worldfootynews.com joined the second group which included the Americans, Canadians, British, South Africans, Chinese, Indians, Nauruans and Japanese.
After two bruising rounds there's plenty of sore bodies and many players took the chance to have a snooze on the journey. As Warrnambool approached the dark clouds on the horizon were somewhat foreboding, but the rain that greeted the players was fairly light and compensated for by a band playing some snappy tunes.
Still, the weather was rather cool and the teams quickly got onto their buses to head off to the races where they will be welcomed to what is very much a footy town. The first three locals worldfootynews.com spoke to all knew the matches were on and were keen to hear more. The bad weather has mostly cleared, though it changes rapidly - hopefully it will be relatively dry for tomorrow's games so the locals turn out and the countries can put on their best display of Aussie Rules for a crowd that understands amateur footy.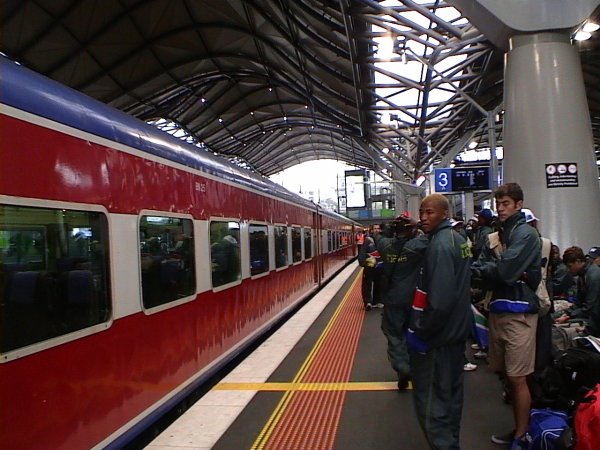 South African players ready to board the train at Southern Cross Station, Melbourne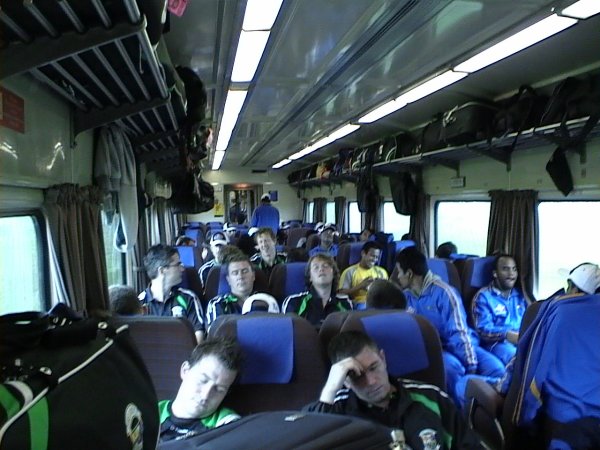 Like many other countries, quite a few of the Irish had a quick nap.