Asian comeback edges out Africans
Saturday, August 30 2008 @ 06:30 pm ACST
Contributed by: Brett Northey
Views: 1,858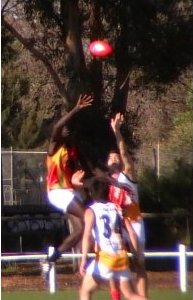 There's a growing awareness in Australia of the need to actively encourage immigrant populations to take up the great Australian game of football. In the past it was somewhat taken for granted that people new to the country would slowly embrace Aussie Rules, but these days with so many sports on offer and soccer much more established, that assumption can't be made. For this reason and with more lofty aims of helping new arrivals integrate into society, multicultural footy development is a growing area, especially in Melbourne (but is also likely to be a core focus for the proposed new western Sydney AFL club).
This pursuit has seen four games scheduled during the International Cup as Multicultural Challenge matches, as an adjunct to the main tournament - the teams are not part of the main draw. Yesterday on McAlister Oval at Royal Park in Melbourne Team Africa took on Team Asia, with players drawn from local ethnic communities.
The game was played in good spirit in the Friday 3pm slot and saw quite a few supporters turn out to support their friends and family members. The Asian players were generally very hard at the contest and seemed a bit more experienced with the footy in their hands.
The African players had a wider range of experience, with most looking fairly new to the game but plenty showing glimpses of talent. Several were remarkably calm under pressure, turning back and out of trouble. They also showed great skills picking up the ground ball without stooping to get it, something that caused murmurs of excitement in the crowd.
After slowly drawing away through better flair it looked like the Africans would win, but the 15 point three quarter time lead was not enough, and Team Asia stormed home with 3 goals to snatch a 3 point victory.
An interesting note is that one of those involved with multicultural development and in particular the Africans is Sash Herceg, who worldfootynews.com first encountered back in 2004 spreading the word for Croatia (see Croatian Converts hope to bring Footy to the Balkans).


| Team Asia | | Team Africa |
| --- | --- | --- |
| 2.2 (14) | 1/4 | 2.0 (12) |
| 4.2 (26) | 1/2 | 6.2 (38) |
| 5.2 (32) | 3/4 | 7.5 (47) |
| 8.3 (51) | Full | 7.6 (48) |