Finns harry Irish on the ground
Saturday, August 30 2008 @ 09:35 pm ACST
Contributed by: Stephen Alomes
Views: 3,197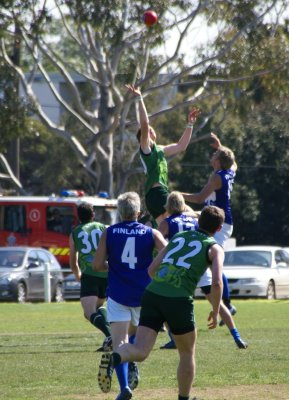 The Friday match at the Western Oval between International Cup debutante Finland, most of whom have been playing the game for around a year, and the experienced Irish team was seen as a mismatch. The scoreboard might confirm that.
However, in play, the Finns, with a bumping tradition from ice hockey, harried the Irish all day, a team with its own national bumping tradition drawn from Gaelic Football.
The Finns lacked both on-field tactical nous in taking the ball forward and the players who could execute in the forward line, but they kept the pressure on the Irish all day, leading to sloppy ball handling and missed passes from the boys in green. After the match coach "Izzy" Barker explained that after their big loss in round 1 the team had sat down and focussed on what each individual was going to do to stop such a blow out again. That meant harassing the Irish, forcing them wide and employing a fair bit of flooding.
However, years of experience and the resultant skill difference told, with the Finns still losing badly on the scoreboard, Ireland 13.20 (98) to a Finnish blank. Still, the Irish coach will have been frustrated, as the Warriors continued to go wide and falling into the trap of going down the side that the breeze was blowing towards.
Ian O'Sullivan from Leeside Lions and Paddy Gibbs from West Dublin Saints were amongst the better players for Ireland with Fernando Leon from the Helsinki Heatseekers a creative influence for Finland.
The match, with solid bumping and some scrambly play influenced by the wind, was well controlled as central whistleblowers by umpires Kylie from Waverley and Simon from the Southern Football League. They more than earned respect in the form of the Cup's tradition of three cheers and shaking hands with the umpies, itself a good thing for footy - especially since the umpires are local volunteers.
The game suggested two things. Even given the Irish appeared to rest a few players, they still have a lot of work to do if they are to be competitive with the biggest guns as the tournament advances. And the Finns are showing amazing promise in a game which is still new to most of them.

Ireland
Goal Kickers: L. O'Connor 4, P. Gibbs 2, J. Enright 2, I. O'Sullivan, C. Keegan, S. Keegan, D. Ohaodhagain, R. Colleran
Best Players: L. O'Connor, I. O'Sullivan, D. Ohaodhagain, P. Gibbs, C. Keegan, S. Keegan
Finland
Best Players: F. Romar, J. Nieminen, S. Doherty, F. Leon, K. Byrne, J. Toivonen


| Ireland | | Finland |
| --- | --- | --- |
| 1.5 (11) | 1/4 | 0.0 (0) |
| 5.13 (43) | 1/2 | 0.0 (0) |
| 9.17 (71) | 3/4 | 0.0 (0) |
| 13.20 (98) | Full | 0.0 (0) |