Easy win for PNG in "friendly" against Peace Team
Saturday, August 30 2008 @ 01:40 am ACST
Contributed by: Stephen Alomes
Views: 2,296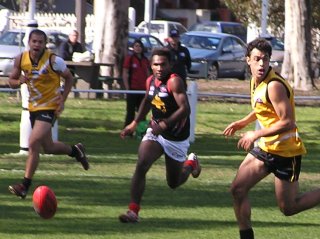 A good crowd gathered to watch and support the PNG and Peace teams in the 1.00 pm Round 2 match, almost as big as the crowd across the road watching the contest between Japan and Samoa. Some of the visionaries of football, and now international football luminaries, of the Victorian kind, including Ron Barassi and Brian Dixon, were amongst them.
It was inevitable that the novices of the Peace Team, drawn from Israelis and Palestinians, including some African residents, even with the coaching of the Big Dipper, Robert Dipierdomenico, would struggle against the athleticism and football skills of the PNG team. It was a hard fought but friendly match, with no quarter given.
While the Peace Team came out of the blocks fast, goaling in the first quarter, a pleasant surprise for onlookers, they were soon trailing 1.1 (7) to 4.1 (25) at quarter time, and that was to be their biggest impact up forward.
The speed and ball movement of the Papua New Guineans would always trouble the Peace Team and one of the tournament favourites ran out winners 20.20 (140) to 1.1 (7). Or perhaps as Dipper joked reflectively, his charges had enjoyed a bit too much the belly dancing the night before. Stands outs were Pirika with 6 sausage rolls for PNG and we can't forget Abu Haduan, scoring the Peace Team's major.
The biggest crowd gathered after the match as the PNG and Peace Team players and coaches gathered, with trainers and supporters, to sing their songs together in a display of musical as well as footy harmony.
It was a great moment for footy - and beyond.
Next for these teams, in Warrnambool, is Great Britain to put some more pressure on the Mozzies, and surprise packets Nauru to remind the Peace Team of just how hard at the footy some teams can be.

Papua New Guinea
Goal Kickers: A. Pirika 6, S. Mangoea 2, W. Aisi 2, P. Milaure 2, A. Sioni 2, E. Barowai, S. Carbry, Z. Rava, E. Wartova, J. Ila, D. Evertius
Best Players: W. Aisi, A. Pirika, P. Labi, A. Baleko, E. Barowai, P. Milaure
Peace Team
Goal Kickers: A. Abu Haduan
Best Players: U. Kandel, A. Abu Haduan, H. Ibdeir, F. Swaitti, M. Lagisa, D. Haim


| PNG | | Peace Team |
| --- | --- | --- |
| 4.1 (25) | 1/4 | 1.1 (7) |
| 11.6 (72) | 1/2 | 1.1 (7) |
| 15.10 (100) | 3/4 | 1.1 (7) |
| 20.20 (140) | Full | 1.1 (7) |