New Indians no match for Samoan Roos
Thursday, August 28 2008 @ 04:58 pm ACST
Contributed by: Brett Northey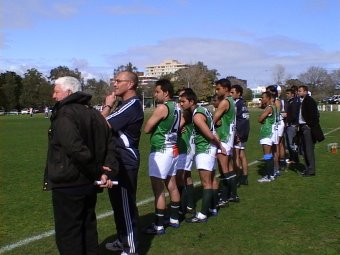 Playing in the middle time slot for Round 1, Samoa took on India in what was the first official game for the team from the subcontinent. The Samoans, newly dubbed the Kangaroos, smashed the Tigers as expected. But there was still plenty of interest, to see whether the Samoans had improved since solid 2002 and 2005 campaigns, and whether the Indians would cope with the big islanders.
As it turned out, the Indians were brave and showed glimpses of talent, but the pressure of decent opposition never gave them much of a chance.



The Samoans were all over the Indians right from the start. Although the Tigers were competitive, they couldn't string together possessions to make much forward progress. The Roos piled on 4.6 (30) in the opening stanza, with their opponents never really threatening the goals. A highlight was a wonderful weaving run by Sefo Lafoga from the Fasitoo-uta Lions club back in Samoa. Although he looked a little unsteady with his bouncing technique, he was doing it at pace and it kept coming back to him and finished it off with a goal that will surely rank as one of the best for the tournament - let's hope those AFL cameras were rolling on the match, but I suspect they were pointed at the adjacent game.
The first quarter was pretty much mirrored over the next three, with Samoa scoring a further 3.4 (22), 6.6 (42) and 3.4 (22). There appeared to be a wide range of ability across the Roos, ranging from champion captain Fia Tootoo down to quite new players. Their play was often a little indirect, but once they realised they could often shake off the tackles of their smaller opponents we saw some bold runs through heavy traffic. Fia roamed the ground doing mostly as he liked, coming off centre-halfback in a similar role to Mike Finn from Ireland.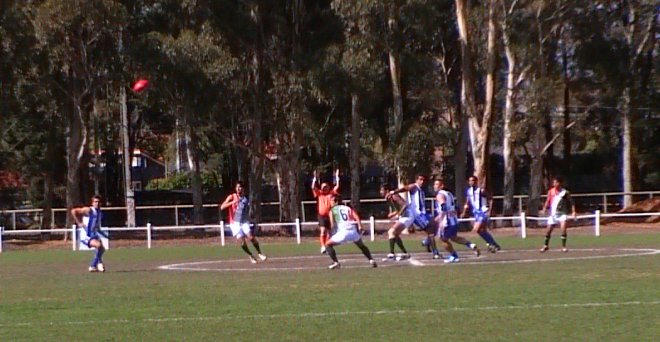 The Indians were brave, and that is not patronising. These guys are some of the newest to football and did not have much preparation. In fact at times there seemed to be a little confusion over the finer points of some rules, but when they got clear they used the ball quite well, chipping short passes in the style of Japan circa 2005. They didn't stick tight in defence, but to keep going in there against the fierce Samoan players was a credit to them, and there were some great tackles against the odds - these are proud players who just need more time in the game. This was match number one in what we hope will be a long and successful journey.
Although Samoa kicked a further away in the last quarter, there's no doubt the highlight that most of the crowd had been hoping for was India's first goal, kicked by 22 year old Prakash Kailasanthan.
Overall Samoa, having lost quite a few players that are playing in Australia and deemed ineligible, probably haven't progressed a great deal on field - this tournament is more about being a part of the event while they continue to develop their juniors back home and provide them with a pathway. Having said that, they are a team that other middle ranked sides will have to play well to defeat, and their best can be very good. That next team will be Japan in a fascinating contrast of styles and body shapes. For India they play reigning champs New Zealand. Good luck.
But let's hope that in 50 years from now millions of Indian footy fans will know the answer to the quiz question - who kicked India's first goal in international footy?
Samoa
Goal Kickers: S. Faalelei 2, J. Matualoto 2, E. Tinetali 2, F. Amosa 2, F. Too-too 2, S. Faaee, S. Lafoga, E. Masaga, S. Sale, J. Betham, T. Upumoni
Best Players: F. Too-too, S. Lafoga, S. Faaee, V. Vailepa Penu, S. Faalelei, F. Amosa
India
Goal Kickers: P. Kailasanthan
Best Players: A. Gupta, M. Shelton, M. Nathaniel, K. Singh, R. Monga, M. Shah


| Samoa | | India |
| --- | --- | --- |
| 4.6 (30) | 1/4 | 0.0 (0) |
| 7.10 (52) | 1/2 | 0.0 (0) |
| 13.16 (94) | 3/4 | 0.0 (0) |
| 16.20 (116) | Full | 1.0 (6) |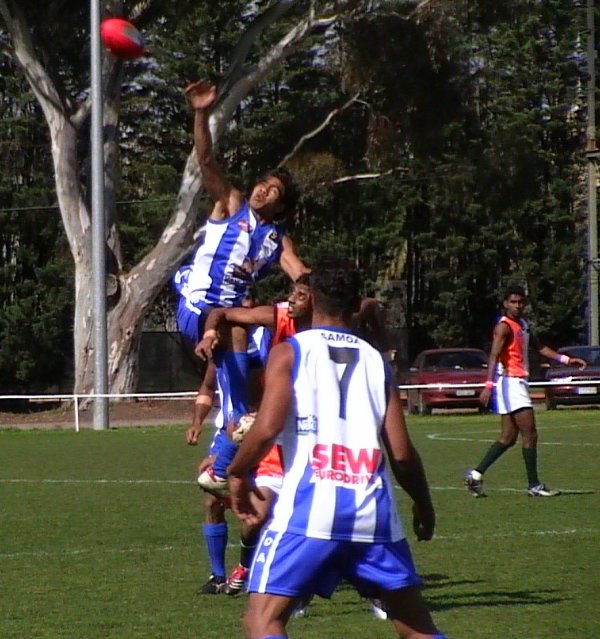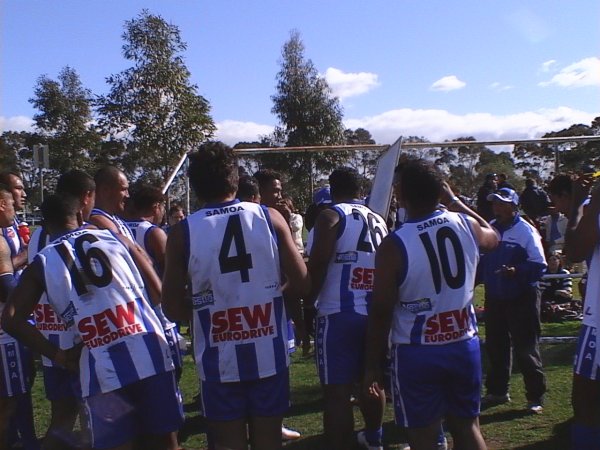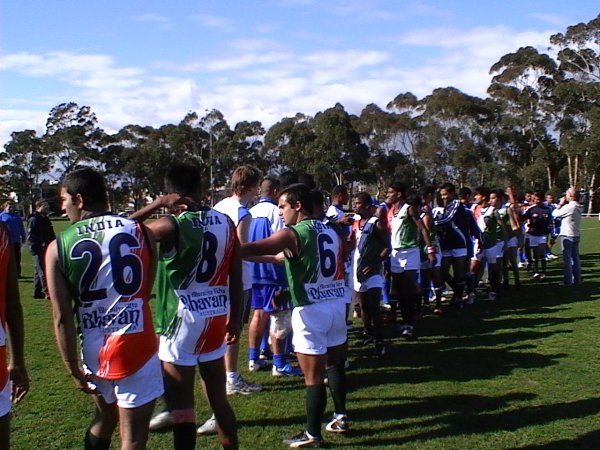 Comments (0)
---
World Footy News
http://www.worldfootynews.com/article.php/20080828163436696