Mozzies survive early scare
Thursday, August 28 2008 @ 05:00 pm ACST
Contributed by: Brett Northey
Views: 2,351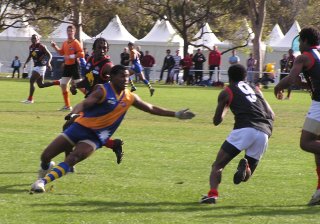 Round 1 of the IC08 saved the best until last, as one of the tournament favourites, and dual runners-up, Papua New Guinea fronted Nauru, returning to Cup competition after missing in 2005.
And what a contest it was. PNG are expected to be very good once again, and slightly favoured by this writer to go all the way, just. The way the tournament is structured, if a team loses one match and their opponent wins their other two rounds, there's no way the loser can make it through to the top four (an artefact of having to squeeze so many games into a short space of time in what is, after-all, an amateur competition). So the prediction was looking very shaky and the PNG brains trust must have been concerned when at quarter time the Nauru Chiefs led the Mozzies by 3 points, albeit after having had the use of a strengthening breeze.
The pace was fast and furious as all players threw themselves into the contest. In fact the frenetic speed is probably a weakness in the Papuan game, with over-exuberance resulting in players over-running the ball when a calmer head would have prevailed. This is an area that has hurt them in their two losing IC grand finals.
The Nauruans were very competitive in 2002, but with the game in limbo for a few years, it was thought they might not be as strong, whilst the rest of the world has moved on. The flipside was their invaluable time spent playing country footy in Victoria this season - a great initiative that has already proven its benefit. Speaking to coach Wes Illig before the match, there was a sense of quiet confidence and a suspicious that this site's tip of a 50 point loss would be used as ammunition to fire up his charges.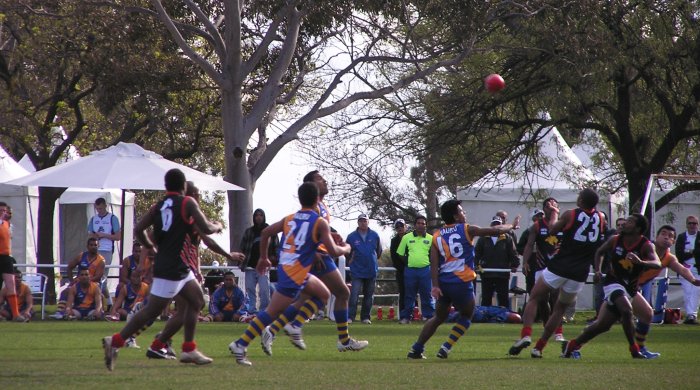 It was in the air that Papua New Guinea struggled the most. Although not overly tall, and lacking any real giants, Nauru definitely had an edge in height, and combined with heavier bodies, repeatedly snuffed out any aerial contests. PNG know they must get their running game right if they are to take out the tournament, modelling themselves to some extent on AFL side the Western Bulldogs. This started to click into action in the second term, with four goals including two in quick succession settling the nerves and establishing their style of play.
A feature of the match was the general type of distraction against the player with the ball. The man on the mark, and this applied to both sides, often shouting and pulled faces like they were going to tribal war - I couldn't tell you if things were being said in their native tongues or just intimidating noise, but it might just put a few players off their shots on goal.
Nauru never gave in and played very tight, something the Mozzies don't like but must learn to cope with. The Chiefs also used their physical presence to stop PNG from running and linking in numbers. But around the ball the Papua New Guinea side was superior and delivered enough of the footy to their forwards to slowly pull away, leading by 16 points at half time, 28 at the last break. AFL draft hopeful John James looked good in flashes, including one very nice goal in the third quarter when he ran on to a loose ball and had no time to steady, banging the kick through for a goal, not distracted by the looming shirtfront that knocked him to the ground. In the end the margin was 49 points.
Spectators were impressed with PNG's win, and some opposing countries were equally impressed. Perhaps though, given their lofty aims, the Mosquitoes could have been cleaner and still have height worries. Certainly stalwart Overa Gibson is vitally important to their cause. But for a Round 1 match and following the theory that you should not peak too soon, PNG will be reasonably happy first up. In Round 2 they will run rings around the Peace Team who will have to try to find a way to slow down the Mozzies' run.
The Chiefs' coach, Wes Illig, told worldfootynews.com that he was satisfied with his team, particularly their first quarter when they "showed they can play footy". They didn't come into the tournament expecting to win, but their Round 1 match against a top side demonstrates that if they maintain their intensity they will be more than a handful for most other sides. Their next match, against Great Britain, should be tough and bruising and an absolute cracker.


Papua New Guinea
Goal Kickers: O. Gibson 4, Z. Rava 2, E. Wartova 2, J. James, S. Mangoea
Best Players: O. Gibson, D. Barry, P. Milaure, Z. Rava, J. Ila, E. Wartova
Nauru
Goal Kickers: D. Baguga, P. Dame, S. Notte
Best Players: T. Mwareow, S. Notte, A. Amwano, B. Waidabu, O. Adam, T. Depaune Nauru



| PNG | | Nauru |
| --- | --- | --- |
| 0.4 (4) | 1/4 | 1.1 (7) |
| 4.6 (30) | 1/2 | 2.2 (14) |
| 7.6 (48) | 3/4 | 3.2 (20) |
| 10.9 (69) | Full | 3.2 (20) |