Samurais' Southern Secret
Saturday, August 30 2008 @ 05:54 pm ACST
Contributed by: Brett Northey
Views: 3,839


The two Yukis from Adelaide, South Australia, could be the secret weapon that the All Japan Samurais team needs to advance to the big finals of the 2008 Australian Football International Cup, which is now heading to Warrnambool in country Victoria.
Words & Photo by Andrew Beveridge (asbCreative)
Yuki Akita, 22, is currently finishing his final year of a teaching degree at the University of Adelaide. He has played district footy for the Modbury Hawks for the past three years.
His first introduction to Aussie football was during a two-week school exchange in 2000. "I enjoyed the physicality of the game - the contact, the roughness of the game and the tackles."
When you hear Yuki Saito, 23, talk you can tell he has spent a lot of time hanging around football players. He has that distinctive Aussie twang when he greets you with "mate...".
Saito arrived in Australia as a fresh-faced 15 year old with little-to-no English ability. After two months at a language school he realised the only way he was really going to learn English was to immerse himself in the culture. He graduated from Adelaide's exclusive Scotch College three years later.
After a gap year in Japan he returned to South Australia eager to turn his schoolboy soccer skills to the other code. Encouraged by his two Aussie host brothers, Kris and Nathan Powell, he started playing regularly for Blackwood FC in the Hills League, and last year received the Most Improved Player award. Sturt footy legend Tony Burgan and his wife sponsored Yuki to play at the club.
These lads have both overcome the massive challenge of moving to another country when they were still in school, learnt a foreign language, graduated from both high school and university and all the while developed their skills as players of our indigenous football code.
As Saito says, "It's all about the experience. You have to give everything a shot. That's why after seeing blokes running around in shorts, no sleeves and no body protection battling it out for a mark, I had to give it a go. It's just got everything. You have to be physically and mentally fit and strong in every area."
Both the boys are huge Crows fans and say that they watch every game and study the moves of their favourite players, Andrew McLeod and Nathan Van Berlo.
They are pumped to be representing their country. Saito is particularly grateful to his new employer, Diageo, who have moved up his annual leave after just two months in a new job so that he can compete in the Cup.
In the future they hope to introduce the thrill of the game to their local Japanese communities. Akita is even talking about starting up a school competition in Okayama Prefecture, South Australia's sister state.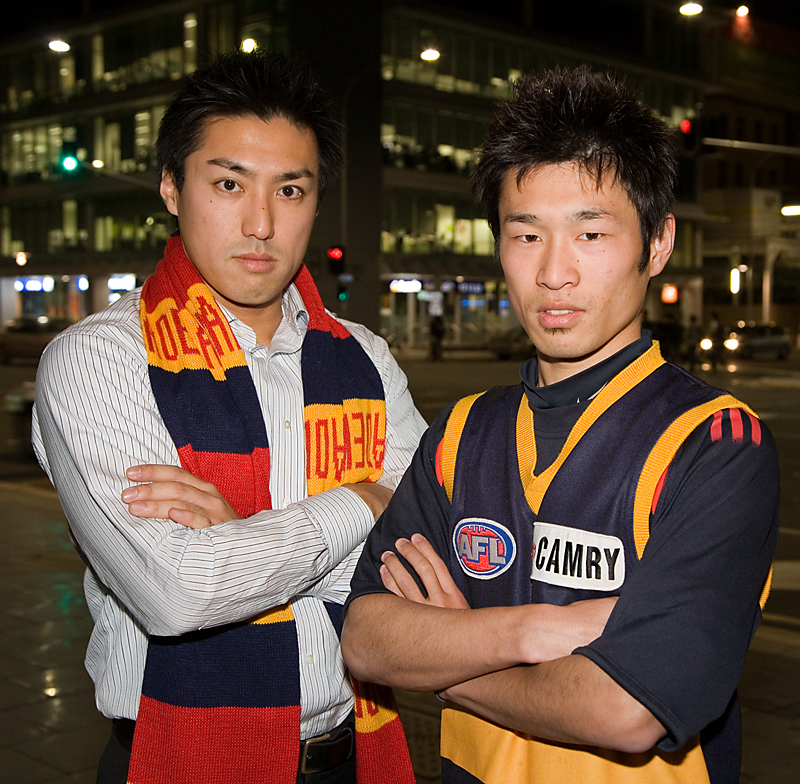 Japan's southern stars in Adelaide Crows colours.