IC08 Preview - Red Demons looking for first victims
Tuesday, August 19 2008 @ 06:48 pm ACST
Contributed by: Brett Northey
Views: 3,976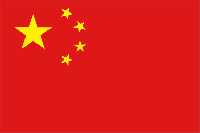 The People's Republic of China, home to the 2008 Olympics and a population of over 1.3 billion (that's around 60 Chinese for every one Australian). They are dominating the Summer Games, as expected, but in Australian football they are not so fancied. Making their international debut at the AFL International Cup, worldfootynews.com spoke to coach Darryl Hoffman about what we might expect to see from the Red Demons.
Hoffman has been living in China for about three years and coaches the Beijing Bombers, the mainly Aussie expatriate team in the nation's capital. Previously he played footy in Sydney and Canberra. The obvious question when coaching the team of Chinese nationals, does he speak the language? The answer is that he speaks a bit of Chinese after studying in Beijing.
So what then are the team's officials hoping to get out of the tournament? "Our main aim is to put a competitive team on the field and allow the guys to develop a better understanding of the game in what is a relatively new experience for them. We have been impressed with their development to date and would see this as an opportunity to continue this. Obviously we don't intend just to make up the numbers and would like to win a few games along the way and perhaps do a little better than WFN has predicted". We sheepishly admit that the "consolidated wisdom" of our tipsters was 15th spot (this author had them only one higher in 14th), see WFN writers pick their winners.
Coach Hoffman explained the style of play the Chinese will look to play. "We try to keep things relatively simple and play accountable football when the opposition has the ball. The team tends to run the ball out of defence quite well and this is something that seems to come quite naturally to them. The players have surprised us with their intent and ability to lay a tackle as well".
The coach realises that at this standard of footy, and wet weather quite possible, the ball may spend plenty of time on the deck, which could make it difficult to maximise the use of their talls, which include Ren Xiaoyu (任晓宇) at 197 cm (nearly 6'6") and Gao Rundong (高润东) at 195 cm (6'5"). "We will try to exploit any natural advantage we have without allowing the other teams to dominate at ground level, where I suspect a decent portion of the game will be played. If we can get the ball into the forward line quickly our height advantage should become more of a factor".
The Country and Australian football

With over a billion people, hard core footy fans would say this huge nation that dominates Asia has been deprived of Australian football far too long. After many years of Aussie expats playing the game, only in the last couple of years has development really started to take off, with support building up including from the Melbourne City Council, the Australian Government, Melbourne Football Club, the AFL, companies such as Mitchells, and the local expat sides. Most of the national side is drawn from official sporting bodies and getting Chinese government approval has been crucial. With a football-specific field being built in Tianjin and thousands of juniors exposed to the game in Suzhou, although long term success in not guaranteed the sky truly is the limit.
Strengths and Weaknesses

Pretty simply, lack of experience in the game is likely to hold the Demons back, despite what is expected to be a very athletic group of young men. It would be truly remarkable if they can deliver sustained excellent skills under pressure this early in their careers. This is just their first step, but we'll be delighted to be proven wrong.
Players to watch

With Aussie Rules amongst the Chinese such a new sport, we have to admit to not knowing who their star players are likely to be. Understandably Hoffman wasn't about to oblige. "I have been impressed by all of our players and the way they have developed their skills in such a short space of time. Among those there are some that have developed a bit faster than others. From previous articles it seems the China team, like the country, is a bit mysterious and we would like to keep it that way until the first game at least".
Form Guide

Again, as one of three teams making their first appearance in international competition (and one of five debuting at IC level) there isn't much to go on. Scratch matches against Aussie expats were competitive, so they won't be pushovers.
Bottom Line

The Red Demons have limited experience but the squad was drawn from athletes in other sports, so should not be under-estimated. With some height, fitness and passion will push the other debutantes, but to escape the bottom four spots they'll have to defeat either the US, South Africa or Denmark. A win against any of those teams would be considered a huge upset. Their match against the Danes could be tight, but their best chance for a win will most likely come in the finals when teams play off against countries in other pools that finished level with them.