Barry and Swans making a Lasting Impression on Northwind

The date is September 24, 2005, and Sydney defender Leo Barry is about to make an impression like very few before him. Knowing there isn't much time left with the clock reading 32 minutes 34 seconds in the final quarter of the Grand Final, and with his team trailing by 4 points, West Coast Eagles ruckman Dean Cox has just marked and kicked the ball deep inside his team's forward line.
A huge pack builds as 91,898 people sit on the edge of their seats awaiting the outcome. Leo Barry, eyes only for the ball, charges in from the side and plucks a courageous mark. No sooner has he got to his feet and the siren has sounded, giving the Sydney Swans their first Premiership since 1933. Barry is mobbed by teammates and euphoria breaks out across the Melbourne Cricket Ground and throughout the city of Sydney.
Fast forward to January 2006, and Barry and his Premiership winning teammates are in Los Angeles, California to play an exhibition match against the North Melbourne Kangaroos, as part of the Australia Day celebrations. Little does Leo know he is about to make another lasting impression.
Toronto Eagles footballer George Dimacakos has been invited to train with the Swans while they are in LA, having been approached by former Sydney forward Tony Morwood during the banquet celebrating the 2005 International Cup teams. Growing up in Canada, and playing for the Eagles of the Ontario Australian Football League, it was only natural that Dimacakos would be a West Coast Eagles supporter. His favourite team had just lost that heart-breaker four months earlier, and now, here he was running around on the same field as the team that won that memorable game. For a young man who had only ever been to four AFL matches from his one trip to Australia, he could be forgiven for being slightly nervous and over-awed.
Within a short time he was being made to feel a part of the Swans inner circle, especially by Grand Final hero, Leo Barry. Barry made sure that George felt a part of the group, showed interest in his football career and made a lasting impression on George, so much so that by the time his LA adventure was over, he was now a Sydney Swan for life. That career-defining mark with 3 seconds remaining that caused so much anguish for Dimacakos and all Eagles supporters was now to be used as motivation for the rest of his career, and his few days shared with Leo Barry and his teammates would claim a special place in this young Canadian's life.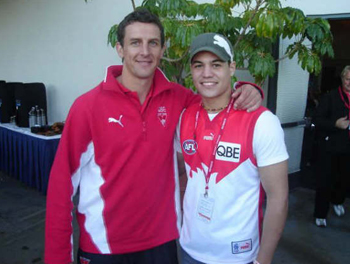 Canada's national team, Northwind, and the Sydney Swans special relationship began back in 2005 when Greg Everett, coach of the Northwind side at the time, made contact with Sydney General Manager and Team of the Century member Tony Morwood about setting up some sort of agreement between the two clubs for the 2005 International Cup in Melbourne. Everett wanted to align Canada with a major AFL side in Australia, for financial and sponsorship support and also to fast-track his player's knowledge of the game, while giving them a chance to be around a professional football environment. From there, it progressed to Morwood visiting Toronto and being involved in the team's training sessions and final team selections.
This relationship is now the envy of all International Australian Football teams, and will continue in Melbourne this August when the Swans provide memorabilia for auction and fundraising initiatives, tickets so the Northwind players and partners can experience an actual AFL match, as well as other logistical assistance throughout their stay in Melbourne.
Another connection the Swans share with Canadian Football is through a family connection. Mike McFarlane, who had a major role in bringing Australian Football to the Great White North happens to be the cousin of the greatest Swan of them all – Bob Skilton.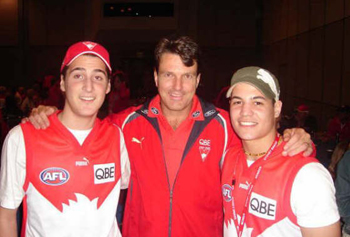 Mike McFarlane was the driving force in setting up and building a junior program in British Columbia. "It has grown from 4 teams and twenty eight players in 2003, to 14 teams, four age groups and over 150 players today. There is also now a junior National team program, of which I am their Head Coach", McFarlane said from his BC home this week. It was McFarlane who got Morwood in touch with Dimacakos and another Canadian youngster from his junior program, Scott Fleming. Both will compete for Canada in the 2008 International Cup.
After finishing 9th in the 2002 International Cup, and 7th in 2005, everyone involved with the Northwind believe that 2008 is the year they will finally crack the final four. A squad of 31 players are making the trip down under, including both George and Scott, and with the help and support from their AFL friends from Sydney, watch for the Canadian National team to create their own lasting impressions this August in Melbourne.
As Sydney push for a top 4 spot of their own approaching September, you can guarantee they'll be keeping an eye on their friends from the across the Pacific.
For more information visit Northwind's website at aflcanada.com.
Courtesy Daniel Eddy, AFL Canada