16 Nations about to do battle
Tuesday, August 26 2008 @ 03:03 am ACST
Contributed by: Brett Northey
Views: 2,394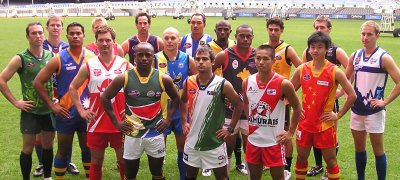 After a three year wait since the last Australian Football International Cup, 16 teams converge on Melbourne's Royal Park tomorrow (Wednesday August 27th) for the first round of IC08. Here's a sneak peek at what to expect, and I'll stick my neck out to venture predictions, although admittedly some of the sides are yet to be seen in international action.
The 16 sides have been seeded into 4 pools of 4, and in Round 1 some of the game's minnows face the power of more established footy nations. There are three times slots for the matches, with three games at 11:00am, three at 1:00pm and two at 3:00pm. Entry is free and the Melbourne public are encouraged to come down, pick their favourite team and help celebrate amateur Australian football from around the world.
The players have arrived in Melbourne and on Tuesday evening (26th August) will gather at the MCG for an official Welcome Function hosted by the AFL. Nerves will be building as the next day sees competition begin. I'll preface my tips by saying that we wish all teams the best, but the reality is some have been in the game a lot longer than others, so some big margins are expected - that's one of the great features of Australian football - plenty of scoring so the best side generally wins.
First up at 11:00am on McAlister Oval is Ireland looking to start strongly against debutantes Sweden. The Irish Warriors are amongst the favourites and their running, skilful game should be far too much for the Swedish Elks, but being their first game and spirits high, they may hang in there for a while. But the predicted fine conditions should see the better side run away. Tip: Ireland by 70 points.
Next door at Ransford Oval the reigning champs New Zealand should find spirited opposition from the Japanese team. The Samurai will be quick and skilful, but in lacking key position size against strong tackling, disciplined, tall opponents, will find it hard to stem the flow. Tip: New Zealand by 70 points.
Also in the same slot, at adjacent Western Oval, Canada will look to start 2008's Cup much more impressively than 2005. Back then they were struck down by injuries before the tournament started and did not manage a win until late in the event. This time they face the enthusiastic debutantes from Finland, and over the journey the Northwind should pull away from the Finns. Tip: Canada by 70 points.
At 1:00pm the next group of matches get underway, with McAlister hosting Samoa battling another debut team in India. This should tell us a lot about both squads. The islanders have in the past had healthy numbers from players then playing in Victorian competitions, but tighter eligibility rule interpretation may have weakened them. On the other hand India have yet to see battle against any team (other than a trial match against China this week), but do have some eligible locals boosting their stocks, so this match could be far more competitive than expected at first glance. Tip: Samoa by 45 points.
At Ransford we see Great Britain take on unknown quantity the Peace Team, comprising Israeli and Palestinian players. A bit like the previous match, the nation with a longer football history may appear easy favourites over a debut side, but word out of the Middle East was that the Peace Team defeated Aussie expats in some exhibition matches before heading Down Under, where they have since had another win over a local side. So a competitive match could be on the cards, but the Bulldogs should be too hungry. Tip: Great Britain by 40 points.
Western Oval hosts possibly the must-see match of the round. The third seeded USA play the Denmark Vikings, who haven't been seen at the Cup since they plundered their way to fourth in 2002. Since then they've played some good matches against European neighbours and this year much of the squad competed in the Danish league as a single team, gaining invaluable experience working together, something the US Revolution has had much less chance to do. If there is to be an upset in Round 1 this could be it, but the Americans will be hitting in hard to put down any challenge. Tip: United States by 30 points.
Two matches at 3:00pm complete the biggest ever day in international Australian football (but with more to come in the next 9 days). At McAlister the rising talents of South Africa's Lions play China's team who are making their first appearance. Expect a fast game which will suit the Lions who will flex their growing strength, despite the Red Demons boasting some very talented athletes. Tip: South Africa by 50 points.
Finally to what could be a very entertaining, slick game of football, as one of the tournament favourites, Papua New Guinea, take on Nauru, returning for their second Cup after missing in 2005. With many players coming to Australia early to get experience in Victorian leagues, the Nauru Chiefs will be worthy opponents. But PNG are likely to be red hot with so many young guns on scholarships in Queensland, and a warm-up match against Coolangatta shaking out some of the kinks from not regularly playing as one team. This game should see very slick ball movement. Tip: PNG by 50 points.
So come on down if you can and experience a wonderful day of football, culture and something new.