Stuttgart Emus Stepping Forward
Sunday, July 27 2008 @ 03:38 pm ACST
Contributed by: Aaron Richard
Views: 4,634


The noble Emu, Australia's "other national symbol", is somewhat underrepresented in the world of footy, particularly when compared with the Kangaroos, but also eclipsed by Wombats, Redbacks and Goannas. A massive grey bird somewhat similar to an ostrich, the Emu adorns Australia's coat of arms along with the Kangaroo - and it is famously said by Australians that neither animal is able to take a backwards step.
However, Germany's newest Aussie rules club is set to remedy this, with the Stuttgart Emus ready to pull on the green and white and join the AFL Germany in 2009.
The Emus are already in training, and have held a few scratch-matches with and against other German and French teams. Their first official match will take place in just over a month, when they take on the 5th-placed AFLG side at the German league's Grand Final carnival on September 6th.
Leading the Emus in their efforts to lay a solid foundation for the future is Australian Grant Walsh. As he tells us, "I love the game and wanted to involved in sport again. Throw in a little home sickness, an opportunity and it was a natural progression."
"The International Cup also made me ponder why Aussie rules was literally unknown here. After a few clicks on the web I saw the rapid development of the German League, noted that there were only five teams and seized the opportunity to even the numbers."
"The inspiration to follow through with this thought developed after speaking to a few guys about 'footy'. I was astonished at their enthusiasm and the level of detail they wanted to know about the game."
The Emus' playing list has grown rapidly, currently standing at around two dozen, of which only four are Australians. "Most of our players didn't even know the game existed just three months ago, now they're representing Stuttgart in a national competition. It's part of the new, fresh and exciting vibe around the club. The social aspect is also very important, and the picnic atmosphere after training helps players' engagement."
"Our player profile is diverse. We are not super athletes, just normal guys who love the game. There is a good balance between tall, strong and short fast players, with varying levels of fitness and experience. The age range of the team starts as low as 12 years and the oldest player is around 37. We have many young 17-18 year olds training which is great for the future of football in Stuttgart."
"We are in close contact with the other AFLG & French teams, who have given many Stuttgart players an opportunity to play for them when they've been short in numbers. One of our players, Guy, will 'lay down a full house' when he plays in a Berlin guernsey this weekend - he will have represented every club in the AFLG. I don't know if this is some sort of record?"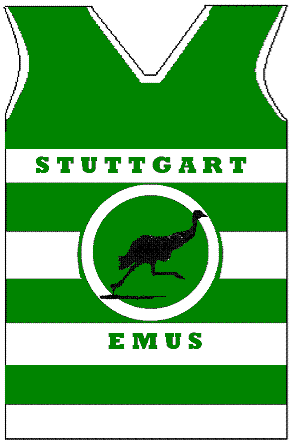 The creation of the Emus has been met with plenty of interest in the nearby city of Strasbourg, just over the French border. "We plan to work together with Strasbourg quite a lot. Apparently, those guys had a pretty tough time a few years ago when they attempted to join the AFLG. I'm looking forward to meeting some of the guys this weekend in Frankfurt, I'd like to invite them to participate in the league with the Emus in 2009, and hope that they feel some attachment to our team. I'm sure we'll arrange some games together later this year. We're planning a joint Strasbourg-Stuttgart team to play against Frankfurt in a trial game soon."
The Stuttgarters also aim to set up a 9-a-side metro league feeding into their league side, something more often seen in the USA than Europe. Says Walsh, "I have an untested concept to develop the local competition here. It involves arranging a venue, equipment and coordinating a match schedule for a 9-a-side casual sports competition. I'm hopeful that small groups of friends will get together, name a team and register to play fortnightly."
"I plan to offer this to existing sporting clubs as an offshoot to their main activity. Each team will get a starters kit upon registration, including a Ball, coaching manual and insurance, so they should be self sufficient. Naturally, all players will be encouraged to join in the Stuttgart training. We'll just have to wait and see how this one works out in 2009."
The team name has caused some interest. The city's name comes from an old German term corresponding to 'Stud Garden', referring to the breeding of horses and represented by the city's traditional symbol, a Black Stallion. Says Walsh, "Primarily, I looked for something combining Stuttgart to Australia that was a little less known to generate interest. We had a lot of dialogue about including the Stuttgart Horse into our name, however, it just didn't seem to fit."
"The Emu, although not the most stunning of birds, does hold some intrigue and creates curiosity here, which I hope is positive for promotional purposes. The Emu features on the Australian coat of arms. Both the Kangaroo and Emu were chosen to symbolise the 'Advancement of Australia' as they are two native animals that cannot walk backwards. Our slogan, 'The Stuttgart Emus, we never take a backward step'. It is also such a good word to work with, our Recruitment posters – The Emu wants You, our Newsletter – The Emus News, etc.
"Well, as for the uniform... I'm sure we'll stand out amongst the other teams on game day."
The Stuttgart Emus can be contacted via their soon-to-be-updated website at www.StuttgartAustralianFootball.de.