IC08 Preview - Samoan Roos to put young talent on show
Monday, July 14 2008 @ 11:20 am ACST
Contributed by: Ash Nugent
Views: 5,837

| | |
| --- | --- |
| | The Samoan Kangaroos are one of nine teams that will contest their third International Cup in 2008, although at the past two cups they were known as the Bulldogs. Adopting the Kangaroo was deemed to fit nicely with North Melbourne supporting them at the tournament, and going forward as something distinctly marketable as Australian within Samoa. Previously the Samoans have finished seventh (2002) and fifth (2005). With no senior competition currently in place the Samoans enter the IC08 as somewhat of a wildcard. At the 2005 tournament for example, they initially easily accounted for the eighth-finishing British side (70 point victory) and yet nearly dropped a match against the ninth-place Canada (4 point victory). |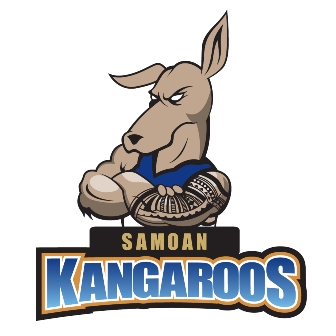 Milani Feaunati, who looks like being the sole female coach at the International Cup, will again take charge of Samoa. Feaunati works at Aqua Samoa which specialises in aquatic sports such as snorkelling and scuba diving. Feaunati also coached the team at the 2005 tournament and she is a passionate Collingwood supporter. Feaunati developed a love for Australian football during a stint in Australia and since returning to Samoa has brought the game to the villages in her district.
According to AFL Samoa National Game Development Manager, Michael Roberts, expect to see a "no-nonsense coach who likes her players to tackle and play a physical game especially when defending. She understands her team's strengths but is also aware that many of those nations she coached against last time will have greatly developed in the three years since." Feaunati and the team "head to Melbourne to win the Cup, however she is aware that Samoa might lack the depth of some of their competitors. She will be pleased so long as the team does its best."
Feaunati also hopes that post-International Cup, Samoa will have a greater opportunity to play International and Australian-based clubs, which at the moment is of great difficulty as they lack a pathway system for juniors to compete in Australia (such as what AFL PNG enjoy through AFLQ) and have only a few domestic games between tournaments. AFL Samoa believes that a Pacific Cup held bi-annually would better prepare the Pacific nations and improve the standard at the International Cup. The Pacific Games, whilst held every four years might even offer this opportunity.
The Country and Australian Football

Samoa is comprised of a group of Islands in the South Pacific Ocean, about half-way between New Zealand and Hawaii. Population estimates vary, but are around the 190,000 mark. AFL Samoa is in charge of football in the country, and they hold a Schoolboys Championship annually as well as primary school clinics. Several Samoans also play in suburban and country leagues in Melbourne and throughout Victoria.
Strengths and Weaknesses

The absence of regular senior league, and therefore lack of game time is a major challenge for the team. Fortunately a lot of their juniors are naturally athletic and are familiar with physical sports. Previous players have even gone on to play professional rugby (due to there being no easy pathway into the AFL, although the Richmond football club recently visited Samoa and they will hopefully help establish one). The Samoan Kangaroos will also be missing eight Victoria-based players, who are unavailable due to club contracts and finals. This could prove to be a crucial issue.
Players to Watch

The team's juniors like Tonga, Lomitusi and Faavae who are schoolboys from the last two years. They are young and still learning the game but they will be long-term players for Samoa.
Form Guide

Samoa finished mid-range at both previous International Cups. Their lack of regular matches is a disadvantage, but their players' natural ability is a positive, as is their senior players' familiarity with the tournament.
Bottom Line

Like previous tournaments, expect Samoa to finish somewhere in the middle, particularly with most of the newer teams likely to finish below them.