IC08 Preview - Sweden with a Point to Prove
Thursday, July 17 2008 @ 09:54 am ACST
Contributed by: Aaron Richard
Views: 5,594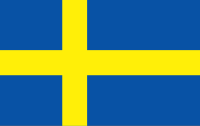 The Swedish Elks will make their International Cup debut this year, after an eventful past few years saw them explode from one club in Helsingborg to regular footy being played in over a dozen cities across the country.
The Elks won last year's EU Cup and have a fierce rivalry with Scandinavian neighbours Denmark and Finland. Now they want to take on the world's best and prove they are the real deal.
Coaching the Elks in Melbourne and Warrnambool will be Cameron Crooks, a native Melburnian who played club footy for Tullamarine and played elite junior footy alongside a number of current AFL champions.
Crooks played club football for Tullamarine and Keilor Park in the Essendon District Football League, starting when he was six years old. He was also selected in regional elite junior teams, as he tells us "I played for the Western Jets in the under 15 development competition which we won. Then the competition divided the Western Jets and the Northern Knights which made the Calder Cannons, where I played until I was 18, alongside Damien Peverill, Jason Johnson, Mark Johnson, Jude Bolton and Ryan O'Keefe just to name a few."
"I came to Falun, Sweden (population 50,000) in 2005 with no knowledge of footy here. But a trip down to a Stockholm pub and meeting another Aussie changed that. Soon after, the Grand Final was on and talking to a few of the boys in Stockholm they convinced me to start a team. The Falun Diggers were born, which I think is the most northerly team in the world according the the footy atlas."
"With our nearest team being a 3 hour drive away and over 25 players at training, all are Swedish apart from myself, a Brazilian and a Russian, it was in our best interest to have 2 teams so we can get more games. Then in an even smaller town with a population of 5000, the Svärdsjö Crows were formed."
"With the Swedish Elks, I am hoping for smart, fast, hard football and not to take **** from anyone. Just knowing these boys for a very short time I have no doubt that they can play this type of footy. The boys have already shown that the can do it, with a free-flowing style of football by using the handball to keep the game going, but not overusing it!"
"My expectations for the Elks are high, I don't care if we come up against the current champions New Zealand or even the Geelong Cats for that matter, they have 18 on the ground and so do we, to me anything can happen over the 4 quarters and if you go into a game with your head down, well, you might as well not play. But being our first time in the International Cup, the main thing is to learn as much as we can, be positive in every match we play, and stick to the game plan, if we can do that, then I have no doubt we will surprise a lot of teams."
"The boys are a committed bunch of blokes, as they had to pay for their whole trip down to oz, and their love for the game will definitely show when we play, with passion and pride."
The Country and Australian football
Sweden is part of Scandinavia, and is one of the biggest countries in Europe, although it has a relatively small population of 9 million. The first club formed were the Helsingborg Saints, in the southern province of Scania, who started playing in the DAFL in the 1990s. Later, clubs and regional leagues were formed in other cities, including Gothenburg, Stockholm and Karlstad, but the huge distances between clubs inhibited the formation of a national body until this year - with the formation of the AFL Sweden.
Strengths and Weaknesses
According to coach Crooks, "the strengths we have as a team, is we have an even balance in the side with a lot of run. There are a lot of players that can play in any position, also the Swedes love playing for each other so playing as a team is the best things you can have in your side."
"To me the only weakness we have is not playing too many games together, from Malmö to Falun is over 1000km and to get the team together is a hard task. We only decided to go to Australia late last year, so maybe the preparation was a little short, especially from November to March which you see lots of snow in Sweden."
Players to watch
Again, Crooks is optimistic. "The boys are really developing in every game they play, but for the Elks the ones to watch are the skipper Andy Svensson, who played for the Danish team in the 2002 International Cup, he is a very dangerous midfielder who will be easily one of the best players of the carnival. Hans Andersson is a young explosive midfielder, he was developed through the junior ranks in Malmö and is making a name for himself in the Danish league. And there is our centre half back Patrik Hyberg, a tall, strong, smart player who can also be pushed up forward if needed."
Form Guide
The Elks won last year's 9-a-side EU Cup against Europe's developing football nations, and have a reasonable record in 18-a-side football as well. Their most recent two test matches saw them go down to the Denmark Vikings, but they had a comfortable win over Finland, whom they will meet again in the pool matches.
Ireland and Canada will test them, the Irish consistently being close to the best team in Europe, and the Canadians having improved since 2005, finally breaking through for a victory over their arch-rivals the highly-fancied US Revolution.
Bottom Line
The Elks will be eager to impress. They were very keen to play in division one, but had been pegged as a second division side by the AFL before the divisional structure was discarded, meaning they will certainly have a point to prove at the Cup.
Form would suggest they'd likely finish third in their pool, but they could make 9th or 10th position after the classification matches.