Samurais Training Camp report
Thursday, June 12 2008 @ 05:30 pm ACST
Contributed by: Troy Thompson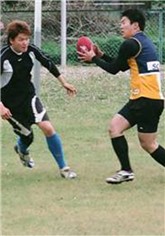 Almost 30 players attended the Japan National Team Training Camp last month at Narita Radisson Hotel Ground. Players were invited were from all the domestic teams such as Eastern Hawks, Senshu Powers, Komazawa Magpies, Tokyo Leopards and Osaka Dingoes. The camp ran over two days in order to assess potential candidates to be selected in the travelling squad for the 2008 International Cup. Our thanks to Hideki Miyasaka for the following report. The weather was wet and rainy on both days. Coach Richard Laidler and Assistant Coach Shohei Yamamoto carried on the basic skill training in day 1 under the wet conditions as it was a good simulation for the rainy weather the team might expect in Melbourne. After three hours of training, the squad took a meal in the hotel followed by watching video of an AFL game in a function room. On day two, an intra team match was conducted as the coaching staff closely assessed the player's ability and suitability for various positions.

Coach Richard Laidler gave his thoughts on the sessions, "The boys have been training hard these past two training sessions. It's good to see the experienced and inexperienced boys working hard together. We have really been working on our basic fitness and skills. Now we will work on some game plans and work on them till we get to the International Cup. I think if the boys keep working hard over next couple of months we will shock a few people on how our standard of play has lifted. Its has been great to have some of our player's experience first hand Australian Rules Footy by playing in some teams around Victoria. They have come back and lifted the standard of our training. Keep an eye out for the Samurais'"

The Japanese squad will be announced in mid June, including a small number of players currently playing in Australia. The squad is scheduled to play a practice game on August 3rd against the Tokyo Goannas.

For more information on football in Japan go to www.jafl.org.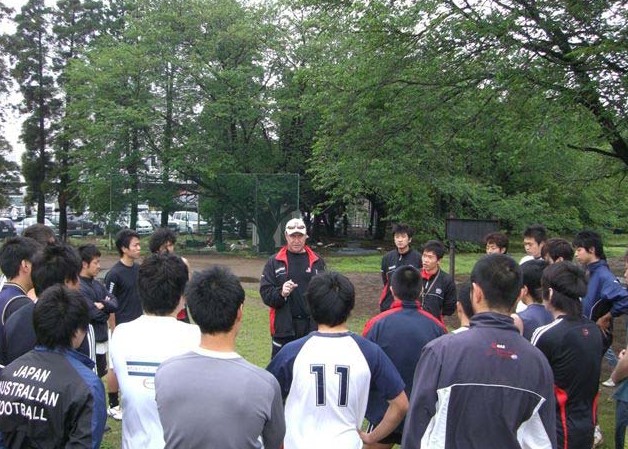 Coach Richard Laidler briefs the players.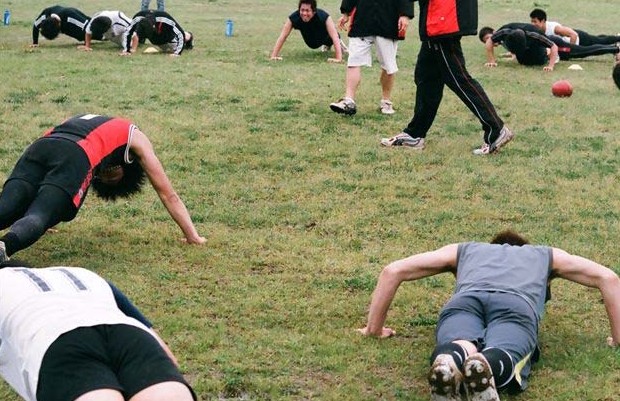 Push ups.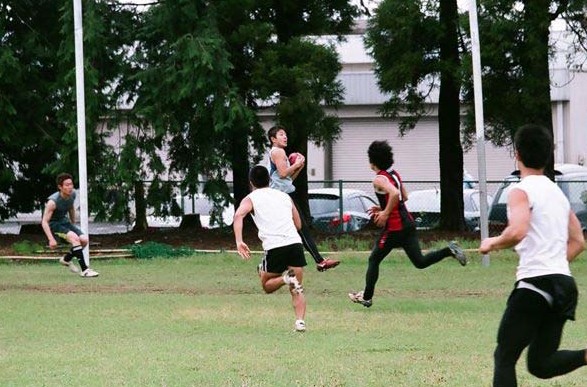 Game 1 – Senshu Powers' Hiroaki Seino marks in front of Goal.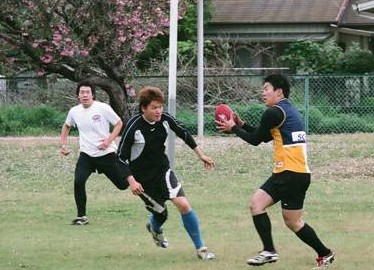 Game 2 – Komazawa Magpies' Kohei Kamoshita attacks Osaka Dingoes' Junzi Tanaka
Comments (0)
---
World Footy News
http://www.worldfootynews.com/article.php/20080612135136445