Dragons put heat on Asian clubs
Tuesday, June 10 2008 @ 06:56 am ACST
Contributed by: Brett Northey
The 2008 Manila Cup has been run and won, with the Philippine Eagles, Hong Kong Dragons, Malaysian Warriors, China Reds (Beijing/Shanghai) and the Hongila Dogs (extra players from Hong Kong and the Philippines) fighting it out in sweltering conditions.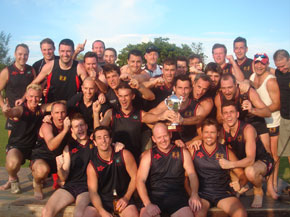 The 12-a-side competition saw the five teams play each other once, with the Hong Kong team (pictured) undefeated to finish top, on the way knocking over the Malaysian club, giving them their only loss. That left the scene set for the Grand Final, with the Dragons going in favourites, and they duly delivered, winning by 7.4 (46) to 2.1 (13).
The organisers are looking to go again in 2009 whilst avoiding clashing with any other tournaments, and will most likely stage it in the last weekend in May. Clubs from across Asia or anywhere else are welcome.
Full tournament report on the Philippines Australian Football League website.