Mozzies name star studded squad
Tuesday, May 20 2008 @ 12:07 pm ACST
Contributed by: Brett Northey

Papua New Guinea have named a star studded squad for the 2008 Australian Football International Cup - the de facto World Cup of Aussie Rules. Two times runners-up, the Mosquitoes will go into the tournament either first or second favourite with reigning champs New Zealand.
The Papuans have listed the 2008 Telikom Mosquitoes Squad of 30 players and 4 emergencies. Pleasingly the team includes their star players that are being hosted in Queensland, including rising Queensland under 18s star John James, PNG's first Queensland under 16 representative (in 2006), Stanis Susuve, and some of their best players from their 2005 campaign such as Alestar Sioni who at one stage spent time with the Brisbane Lions. This year's squad has a more even age spectrum than 2005, and the Mozzies have even found room for a few of the stalwarts from past tilts, including Rex Leka (pictured below) at 33 and Overa Gibson at 35.
In partnership with PNG's Telikom for the first time, AFLPNG's press release says Andrew Cadzow (PNG's coach and new AFL Oceania manager) was impressed with their professionalism. "As our major sponsors of the biggest event in AFL history they have supported our program and are looking to make this relationship long term, especially in the areas of Junior Development, as they have acknowledged the great advancements made."
AFLPNG will stage a sportsmen's function on the 4th of July including a player auction which gives individuals and companies the opportunity to buy players and win prizes.
Cadzow said, "The process of selecting the squad has been thorough. We have ended up with a good balance of experience and youth, young bodies and old heads and look forward to showing the world PNG style of football."
The PNG list is as follows, though subject to "fitness, finances, injuries and attitude will be confirmed by the 31st of June". Note that some players have their clubs listed as Aussie teams - that's purely due to the great work of AFLPNG getting them chances in Australia - all the players were initially developed in PNG. Two are playing with the Zillmere Eagles in Queensland's top league, and seven are with Coolangatta (in AFLQ's second tier). It appears as though there are just six players returning from 2005, in David Evertius, Joe Ila, Alestar Sioni, Peter Milaure, Rex Leka and Overa Gibson.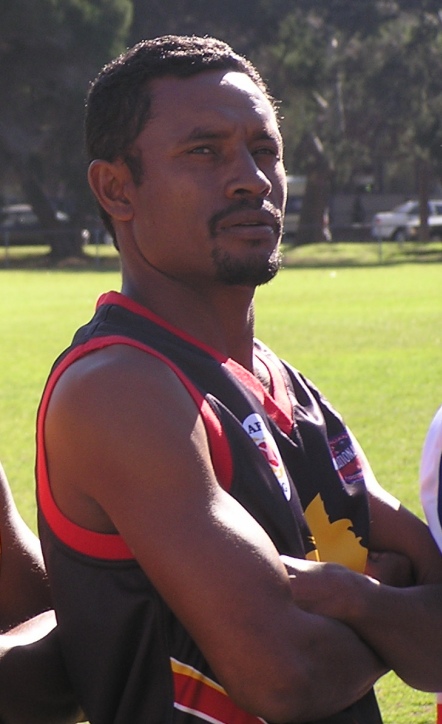 Stanis Susuve 18 years Zillmere Eagles (Australia)
John James 19 years Zillmere Eagles (Australia)
David Evertius 21 years Coolangatta (Australia)
Emmaus Wartovo 21 years Coolangatta (Australia)
Donald Barry 20 years Coolangatta (Australia)
Joe Ila 23 years Coolangatta (Australia)
John Vincent 18 years Port Moresby
Willie Asai 18 years Port Moresby
Alestar Sioni 24 years Lae
Alan Kauma 26 years Lae
Jimmy Logha 26 years Lae
Desmond Nalong 20 years Lae
Henry Henry 24 years Port Moresby
Bruce Savara 29 years Port Moresby
Alois Baleko 25 years Port Moresby
Boas Keu 24 years Port Moresby
Mesa Dorogori 25 years Port Moresby
Raga Raga 23 years Port Moresby
Peter Milaure 20 years Coolangatta (Australia)
Sylvester Mangoea 21 years Port Moresby
Nicky Appamumu 27 years Port Moresby
Rex Leka 33 years Port Moresby
Ali Pinda 19 years Port Moresby
Overa Gibson 35 years Port Moresby
Eliza Barowai 19 years Mt Hagan
Desmond Waluka 20 years Coolangatta (Australia)
Zachary Rava 22 years Kimbe
John Bosko 30 years West New Britain
Julius Malila 20 years West New Britain
Augustine Dede 17 years Coolangatta (Australia)

Emergencies:

John Vogoe 17 years Nambour (Australia)
Amua Pirika 17 years Nambour (Australia)
Peter Labi 17 years Nambour (Australia)
Emmanuel Tupia 17 years Nambour (Australia)
Comments (0)
---
World Footy News
http://www.worldfootynews.com/article.php/20080519220748613