Camp boosts expectations for Chinese
Wednesday, May 14 2008 @ 12:39 am ACST
Contributed by: Brett Northey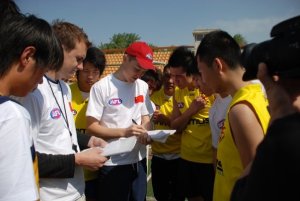 Firstly we must acknowledge the terrible devastation of the recent earthquake centred around Chengdu in western China - hopeful the toll will not rise much further, though sadly that seems inevitable.
Another milestone has been achieved in China's bid to attend the 2008 Australian Football International Cup in August and September this year. A national training camp was held last weekend at Nankai University in central Tianjin, near Beijing in the country's northeast. There were 46 players from across the Chinese footy development spectrum - Beijing Sport University, Beijing Bombers Australian Football Club, Tianjin Normal University, Tianjin Institute of Electronics, Tianjin Nankai University and SuZhou Canglang district Education Commission. It seems footy is getting a real toe hold in four Chinese cities - Beijing, Tianjin, Shanghai and SuZhou. Andrew Sawitsch, an Australian Football Development Officer in China, described the camp as not just short term selection trials for the Cup, but an opportunity for all players "to expand on their skills and knowledge of the game for future matches and development".
The players had a broad range of ages and experience, but Australian coaches Darryl Hoffman, Tom Mattessi and Tom Shugg were on hand to guide them through the sessions. Opponents could be in for a surprise, as Asians are often seen as being typically shorter in stature, as we've seen with the Japanese sides over the years. But Sawitsch is excited at the prospect of several tall athletes to choose from and expects the team to be very competitive.
Sawitsch described the way the weekend unfolded.
"Players arrived, registered and had dinner early Friday evening, there was then a seminar held by Professor Gao of Nankai University, who has visited Australia and just finished publishing a book in simplified Chinese about the rules and background of the game. All players in attendance received this book and heard Professor Gao clarify things such as 50 metre penalties, length of matches etc. He hopes that Nankai University can offer Australian Football as a formal class in his university. Then the 1st half of the recent Hawthorn vs Collingwood match was viewed as well as clarifying some of the rules and the advantages of running to space, manning up etc.
Early start Saturday morning and it was straight to the Sports ground after breakfast. 3km time trials were held, with interesting results, then a morning of skills sessions, both close and full field, before a break for lunch and then a seminar further clarifying aspects of tackling and defending and fielding various questions. The afternoon it was back to the sports ground, players were divided up into 3 even teams and it was a pleasure sitting back and watching some of the passages of play during the practice matches. The improvement has been unbelievable and the coaching staff were left with some tough decisions. Players were extremely tired at the end of the day but feeling good. Tianjin TV were in attendance on the Saturday and ran a piece on their sports news.
Sunday was an early morning skills session plus more practice matches, before heading back to the dorms for further meetings and a quick lunch before everybody returned to their respective homes. All up a successful weekend and cost wise, came in under budget which was good.
We have had some encouraging chats to sponsors lately, including a Tianjin based company who is involved with the Australian Football Ground in Tianjin project, and we will have a further update on the outcome of that after the (Melbourne) Lord Mayor John So visits Tianjin 29th May. He will meet some of the Chinese players and discuss Australian Football's future in Tianjin during his visit".
Of course, as with all countries aiming for Melbourne later this year, costs are a major inhibitor. Sawitsch would love to hear from any potential sponsors large or small that would be interested in getting involved in these crucial early stages of what could be a very exciting journey for Aussie Rules in the world's most populous country.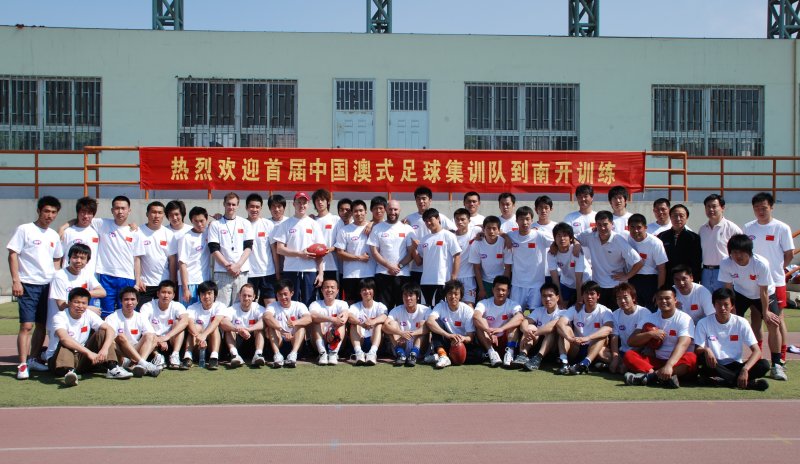 The players and coaches at China's development camp.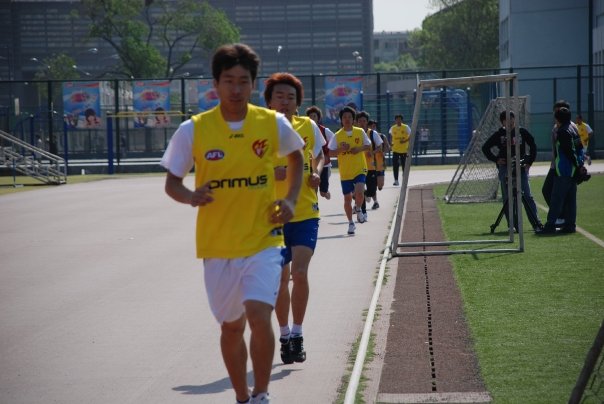 3 km time trial.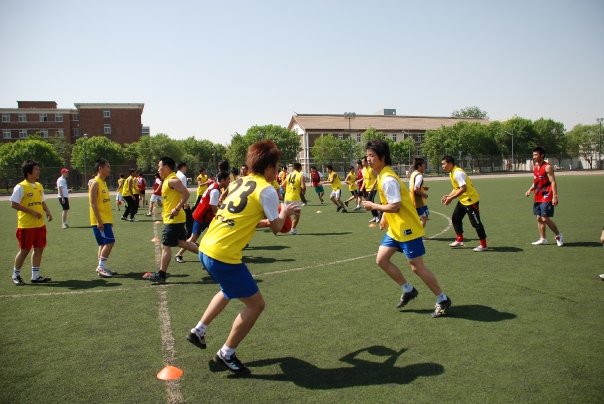 Handball drill.


Also see this story on Amy Bainbridge and Ali Keys, about former Eastlake players promoting the game in Beijing: Women's footy arrives in Beijing ahead of Olympics
Comments (0)
---
World Footy News
http://www.worldfootynews.com/article.php/20080512220931108