Brit squad nearly ready for IC tilt
Monday, May 12 2008 @ 02:06 am ACST
Contributed by: Brett Northey
Views: 2,818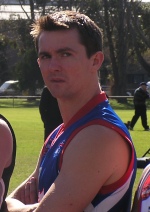 The AFL Great Britain squad for the 2008 Australian Football International Cup is all but finalised, but there is still time a sliver of hope for eager Englishmen, Scots and Welsh to force their way into the side. There's also traditionally been a healthy number of Irishmen, with players hailing from Northern Ireland but playing in Great Britain often included in the British Bulldogs.
Bulldogs coach Charlie Kielty confirmed that some changes could occur, but the squad as listed on the AFL Great Britain website are in the prime position. "That is the squad at the moment. If we were leaving tomorrow 30 of those players would be on the plane. However, as we are still 4 months away, faces could change due to injury, bad form, personal issues, etc".
Johnny Boyle reprises his captaincy role from the last Cup, and Edward Doe from the South Cardiff Panthers may well be the first Welshman to represent Great Britain in Australian Football.
The Bulldogs finished 6th in both 2002 and 2005. Late in 2007 they defeated Ireland for the first time and with a slowly growing pool of local players to choose from, will be hoping to climb the ladder. However just as the Brits will have improved, so will many other sides. Ireland have some old stalwarts returning, PNG have talent being developed in the Queensland leagues and the US are sure to be fiercely competitive as always. Canada have benefited from some junior development as have South Africa, though the full benefits of are a few years away. Reigning champions New Zealand will be tough as always - they're not expecting to name their squad until after a training camp on July 5th and 6th. So as in 2005, the battle to rise the ladder of international footy will be one of trying not just to improve, but improve faster than everyone else.
The current Bulldogs squad as listed on the AFL Great Britain website at time of writing.
On Field Management
Coach: Charlie Kielty
Captain: Jonny Boyle
Selectors: Charlie Kielty and Jonny Boyle
Physio: James Booth

Off Field Management
Team Manager: Martin Smith
Treasurer and sponsorship duties: Adam Bennett (V.Capt), Matt Glynn

Player's Leadership Group
Jonny Boyle, Paul Harris, Julian Ford and Adam Bennett

Nottingham Scorpions: Antony Keany, Ashley Swift, Dominic Mitchell, Richard Lucas, Keith Farr, Sam Wood, Luke Matias
North London Lions: Philip Holtam
Putney Magpies: Andrew Ruinoff, Paul Manley, Paul Harris, Amerigo Holthouse, Nick Stevens, Graham Tuffin
Reading Kangaroos: Adam Bennett (vc), Julian Ford, Andrew Whiteaker, Andrew Grubb
South Cardiff Panthers: Edward Doe
Swans: Ben Rees, Jon Conradi, Harry Zalk, Lee Ocsko, Paul Hodge, Christian Lloyd
West London Wildcats: Jonathan Boyle (capt), Barry Malone, Rob Chamberlain, Damian Holland, Eoin O'Connor, Paul Lavelle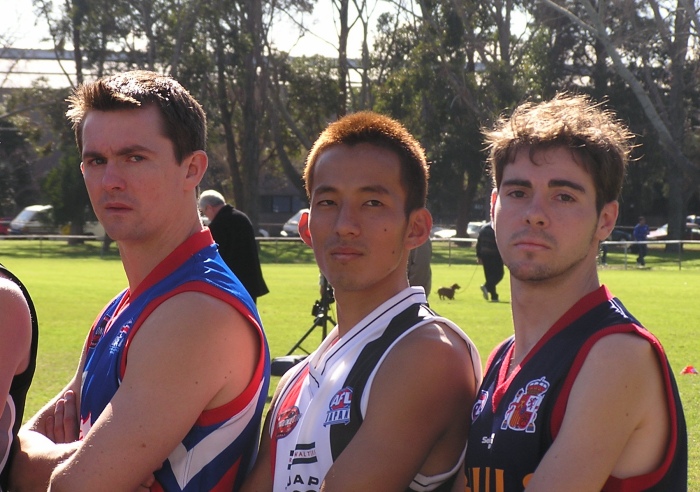 Jonny Boyle will captain Britain for the third International Cup, having done so at the second Cup in 2005. Pictured here in 2005 with the captains of Japan and Spain.