Choice one bro - Khan you believe it!
Wednesday, April 30 2008 @ 03:42 pm ACST
Contributed by: Rod Shaw
Views: 5,634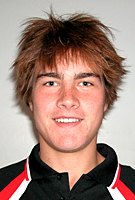 Though much of the recent media focus has been on Fijian Nicholas Naitanui, who is widely tipped to go number one in the 2008 draft, there is another player of Pacific Islands descent, Khan Haretuku, whose parents are New Zealanders, who has been rookie listed with St Kilda. Meanwhile the Western Bulldogs have turned their attention to Fiji, with another club expected to also join the international hunt this year.
The Western Bulldogs are currently involved in scouring Fiji with chief recruiter Scott Clayton having been there regularly to look at possible international rookies - the opportunity has never been better for those of Island descent. They are often big bodied though incredibly athletic with powerful physiques. Now with a pathway developed that is of little financial risk to an AFL club, as well as the League expanding to 18 clubs in the near future, it is a good time to lure them away from both codes of rugby where they may have traditionally starred.
Khan made his way through to an AFL list as a NSW scholarship holder and has been playing footy for about four seasons after a background in both codes of rugby. He was at the University of NSW before moving to the Saints. Glebe President Dave Britton said "Khan's signing was a tribute to his potential as a footballer and his selection by the Saints shows that talented AFL players in Sydney are getting a real opportunity to play at the highest level."
St Kilda have been particularly active in Sydney behind the scenes with chief recruiter John Beveridge and Sydney representative Danny Ryan heavily involved. Danny was a former coach of Pennant Hills in the Sydney competition and has a wealth of footy knowledge having had the Melbourne Football Club as a sister Club for "Penno" in his time there. In speaking with Danny recently he confirmed that Haretuku "stood every chance of making it".
John Beveridge said of the signing, "Khan is a 196cm athletic left footer and has played mostly in the ruck but gives the impression that he could develop into a key back or forward. The St Kilda Football Club is obviously very pleased to welcome Khan into our playing group".

Related media articles on Khan Haretuku:

Player profile

Saint Kilda signs former Glebe player

Khan-do attitude