Footy hits YouKu
Tuesday, April 15 2008 @ 11:50 am ACST
Contributed by: Brett Northey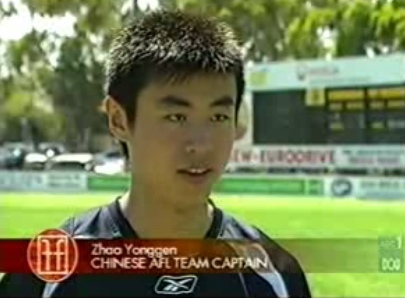 Apparently China's answer to YouTube is YouKu, and Australian Football development staff in the world's most populous country have made sure footy has a presence on there. Uploaded videos include footage from a local training session with comments from development officer Tom Mattessi, and the ever-popular AFL clip that was shown at the 2005 International Cup dinner, featuring some of the game's incredible highlights including some of those by stars with international roots.
Also uploaded is an excellent ABC Asia-Pacific interview with the AFL's General Manager of National and International Game Development, David Matthews. The video highlights some of the issues the AFL face in terms of balancing domestic pressures with hopes of expanding the game. Of particular note was Matthews' estimate that there are around 35,000 footballers internationally (compared with about 650,000 in Australia) and his prediction that the international number could grow to 150,000 in the next ten years. That's certainly feasible, but nice to hear a key player at the Australian Football League stating it. He also refers to the potential of the game as an export for Australia - as business and governments realise this fact, hopefully they will increasingly support Australia's indigenous sport. Matthews estimated current international investment at around $1 million, compared with domestic investment of $40 million.


The piece also interviews likely China captain Zhao Yonggen and VFL/AFL greats Ron Barassi and Kevin Sheedy.
The full video is here. Not really necessary, but a Google translation is here. Thanks to AFL China's Andrew Sawitsch for the heads-up. The video's are loaded under the name AFL China.
Comments (0)
---
World Footy News
http://www.worldfootynews.com/article.php/20080415002354561