Spring Footy at Maishima Sports Island Osaka - Goannas defeat Dingoes
Tuesday, April 15 2008 @ 12:25 am ACST
Contributed by: Stephen Alomes
Views: 5,303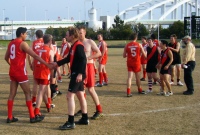 Traditional rivalry in Japan is never greater than Tokyo vs Osaka, between the town of blue suits and power and the town of merchants and fun. The greatest rivalry in Japanese sport is between baseball's Tokyo Giants and Osaka's Hanshin Tigers. On the same weekend when the sluggers were slugging it out in Tokyo, the Tokyo Goannas went on a road trip to Osaka to take on the hometown Dingoes in the big match at Maishima Sports Island on Saturday April 5.
In the opening game of the 2008 season, on a sunny but hazy afternoon, and on a very firm surface on a dry soccer ground, the big men of the Goannas, inheritors of around 20 years of tradition, took on the local team - younger, fitter, and faster.
In the first quarter, it seemed that Osaka would run away with the game, inspired by the sun and cherry blossom of spring. Speed and accuracy - and a favourable wind – brought up four quick goals, leaving the Goannas flat-footed. Footy is a game played below the knees as well as above the shoulders and the below the knees play and determination of the Dingoes left the Goannas without any answers.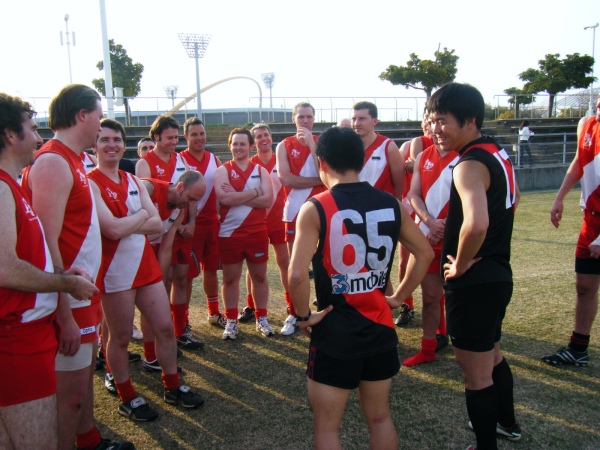 Except, with the wind, the marking and accurate kicking of 'Sully', Patrick Sullivan, the new Goannas forward recruited from London, and a former Teal Cup and St Mary's (Darwin NTFL) player made the difference. While the Dingoes moved the ball forward often, through Genki Tanaka and several smaller running players, star forward Junzy Tanaka was nullified and points not goals resulted. Strong marking and kicking from the Goannas 'Bish' Bedi was more influential than the Dingoes James Hird-style cool, calm play of James Fraser.
Perhaps it was also the large Goanna bench which gave the older Tokyo team fresh legs, running out winners: Tokyo Goannas 14.7 (91) def Osaka Dingoes 10.13 (73).
The game was of a high standard and the standout was the man in white: the brilliant umpiring of Adam Reidy, who, even the critics thought, made at most a couple of mistakes. Running the diamond he was always balanced, calm and in control, enhancing the game.
After the game, and the dismantling of the large and heavy big sticks, the players retreated for the traditional post-mortem at the Blue Billabong bar in central Osaka. It was followed the next day by a Pleasant Sunday Afternoon, the Hanami (cherry blossom watching/drinking) party, a Japanese tradition, in Castle Osaka Park, before the travelling team took the Shinkansen back to the big smoke.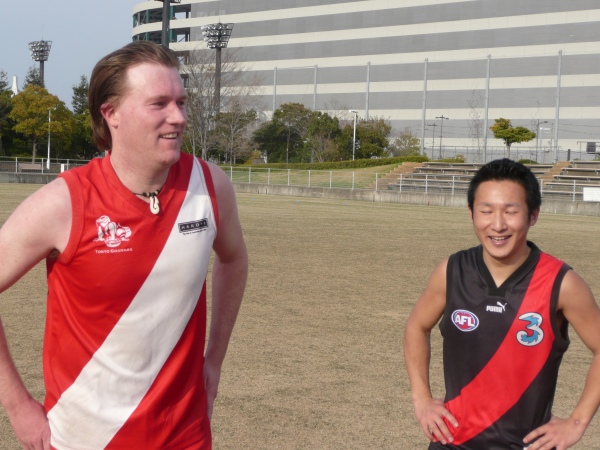 New Goannas President Ronnie Mitchell with Genki Tanaka (Dingoes)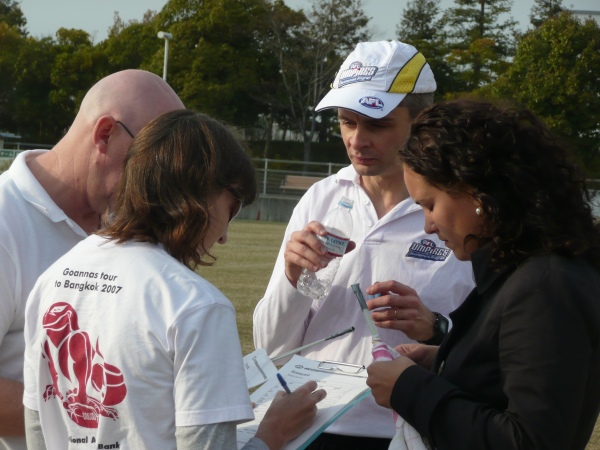 Without umpires there is no game - central umpire Adam Reidy and the goal umpires confirm the scores, with Goannas Team Manager Annmaree Scanlan looking on