DiPierdomenico to coach Israel-Palestine Peace Team at IC
Tuesday, February 19 2008 @ 04:41 pm ACDT
Contributed by: Aaron Richard
Views: 4,144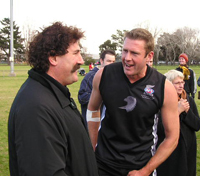 Robert "Dipper" DiPierdomenico has been named as the match-day coach for the Peres Peace Team at this year's 2008 International Cup.
Dipper was a colorful figure in professional Aussie Rules in the 1980s, as one of the stars of a Hawthorn team that dominated the decade.
He has since become a major on-screen personality in media coverage of the AFL, and has visited the US Nationals and previous International Cups.
The following story appeared in the Australian Jewish News on February 18th.
Dipper set to coach Peace Team
By Adam Kamien
BROWNLOW medallist and five-time premiership player Robert DiPierdomenico has been named as the game-day coach of the Peres Centre for Peace football team.
The team comprises Israelis and Palestinians and will play in the AFL's International Cup in August.
The "Peace Team" will take on sides from all corners of the globe, including Japan, Canada, the US, Finland and South Africa.
The AFL's coaching development manager Kevin Sheehan flew to Israel last week and has commenced intensive training sessions with the side, which is made up of athletes with predominantly basketball and soccer backgrounds.
But the man they call "Dipper" says the skill level of the players is irrelevant, choosing instead to focus on the benefits he believes are inherent in simply playing the game.
"People around the world get excited about our game. People love our game because of the mates you make out of it, the teamwork and the strengths you learn," DiPierdomenico, a former Hawthorn champion and an ambassador for the AFL, told The AJN this week.
"Pulling these people [Israelis and Palestinians] together and bringing them over to Australia is going to be fantastic and you never know, we may actually win a game or two."
DiPierdomenico said his own background (he was born in Australia to Italian migrant parents) meant he was well placed to explain how football could build bridges.
"I was at the initial meeting between the AFL and the Peace Team people and I found it very moving and very exciting. I wanted to be involved and talk about my background growing up with the game," he said.
"I used footy to become part of the Anglo-Saxon society and I reckon the same thing can apply here."
According to Tanya Oziel of the Peres Peace Centre's Australian chapter, the project has been an overwhelming success so far, but not without its challenges.
"There are a lot of issues. The guys on the team don't know each other – they don't know the sport. The Palestinian players have to come across for the sessions and the Peres Centre has to organise their permits and their border crossings and everything, so it is difficult," Oziel said.
But she added: "It brings Israelis and Palestinians together against the backdrop of the conflict and the violence. At the grassroots level these people actually get on and they are building peace every day."