Footy boots on the move
Thursday, September 27 2007 @ 07:03 am ACST
Contributed by: Brett Northey
Views: 6,686

| | |
| --- | --- |
| | Some of Australian Football's growth areas are in areas that do not enjoy the same socio-economic circumstances as most people living in western nations. This makes seemingly minor issues like obtaining suitable footwear out of the question for many budding young players in countries such as South Africa, Tonga and Samoa. So it's pleasing to see people in both Australia and the United States getting behind the cause of delivering no longer needed boots to less fortunate players in other countries. |
Readers will probably be aware of WFN's support of the Tonga "boot orphanage" over recent years. This initiative, organised by TAFA staff and volunteers in Australia, has, according to TAFA's Mark Korsten, seen "a steady trickle of gear". Although they've previously secured support from PFL Shipping to deliver the boots, currently TAFA's structures are at maximum, and Korsten says "We will expand our efforts when our capacity to manage more boots increases".
Neighbouring Samoa has a similar program in place, and Michael Roberts explains "We have a relationship with Mr David Gardner in Bowral and several businesses and sports stores in the area as well as with Mr Campbell Walshe at the Diggers Rest Football Club, Melbourne Uni Rugby Club (Vincent Davidson), Samoan Congregational Church Sunshine, formerly Mrs Jackie Sullivan (Yarrawong FC) and Mr Gary Roberts at the St Johns Old Collegians Football Club. This year we have been donated over 60 pairs of men's and boys' boots that have been invaluable to our schoolboys and senior players. In Samoa boys will share their boots so that they only need to wear a boot on the foot they kick with which is quite humbling, while most get around in bare feet".
And finally to the US, where Heather O'Keeffe, daughter of the USAFL's Paul "Plugger" O'Keeffe, has taken on the task of gathering footy boots from the growing Aussie Rules community in the States. Heather's target is South Africa, where the game is exploding amongst juniors and an insatiable demand for suitable football boots exists. AFL South Africa's Jean Verster explained to Heather "We have so many kids who cannot afford boots and even jumpers and shorts etc that everything is worth its weight in gold to these kids".
Heather's mission was highlighted on the USAFL website in Footy Boots for South Africa and the first contributions are now on their way. Heather explained "We ended up shipping one large box (it was the largest size box that the Post Office would accept) filled to the top with boots. I find it encouraging knowing that our donations are now being used by other players in South Africa".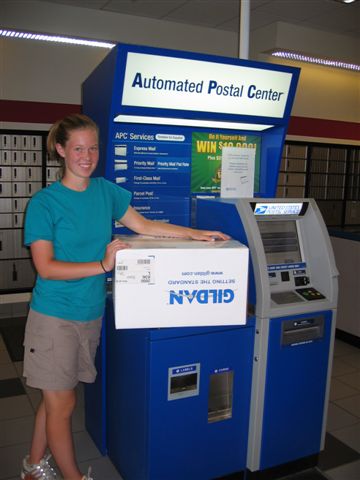 Heather O'Keeffe sending off donated boots to South Africa