2008 International Cup: one year to go
Thursday, September 13 2007 @ 02:38 pm ACST
Contributed by: Ash Nugent
September has arrived for 2007 and Australia is gripped with AFL finals fever. For international footy fans it is also an exciting period as the countdown to the 2008 International Cup intensifies. Should the event be held on the proposed dates, round 1 will kick off on 27 August and the event will conclude with the finals being played on 6 September. Below we look at recent weather trends in Melbourne in order to get some idea of next year's conditions. We also look at previous International Cup venues, and examine those which organisers may look to use for 2008. Adding to the excitement, the AFL have released the logo for next year's tournament. It is an adapted version of the 2002/05 logo and can be viewed in this story.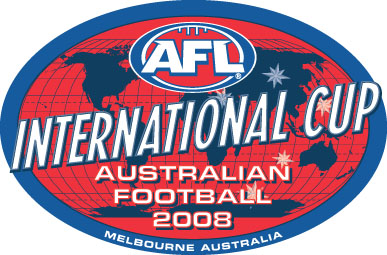 Weather conditions
Melbourne is renowned throughout Australia for having 'four seasons in one day'. Visitors are often bemused by the fact that on a high thirty degree day (high ninety degrees Fahrenheit), locals will bring a jumper with them. What may begin as a gloomy day can be blue skies by the afternoon, and what may be considered 'perfect conditions' is often followed by a 'late change'.
Despite this, Melbourne is still subject to the four seasons and being in the Southern hemisphere, this means that August is the final month of winter and September the beginning of spring. The two previous cups began in mid-August (2002) and early August (2005). At times conditions were not ideal and this has probably contributed to next year's later start.
Should next year's weather be typical of late August-early September in Melbourne, the days will average between 15-18 degrees Celsius (high fifties to mid sixties Fahrenheit). Expect to see sun most days with patches of rain in between. The weather is ideal for the players, although strong winds can make a day appear nicer than it actually is, and a warm jumper/coat (even as a precaution) is a must for spectators.
This period also marks the beginning of warmer weather in Melbourne. Parks and other outdoor areas begin to get busier, and football fever grips the city (with both the AFL and state/suburban leagues drawing to a close). For those that haven't seen football in its Australian environment, this is one of the best times and cities to see a game. More information on Australian weather conditions is available at the Bureau of Meteorology.
International Cup venues

One of the greatest difficulties faced by those promoting the International Cup is that many people in Australia either aren't aware that football is played overseas or they assume those competing are expatriates (and consequently aren't interested). There are also a few people that aren't aware of the inroads made by the game overseas and thus discredit the expansion, and even a few traditionalists who fear an identity loss and want the game to remain Australian (our international readers shouldn't be disheartened at this, as not too long ago many Victorians didn't want a national competition, something which helped elevate Australian football to the most supported status it enjoys in Australia now).
Another issue which has largely slipped under the radar has been the location of previous matches. Melbourne is a city home to 3.7 million residents, and has a large urban sprawl. Some residents in outer suburbs infrequently attend AFL matches due to their location in the very-inner Richmond (MCG) or Docklands (Telstra Dome). It's not hard to see why these residents will be even less inclined to see two countries they didn't know played football play an amateur match against each other.
A solution to this may be holding games at suburban grounds. A game played in the suburbs can be promoted through community lines, such as local newspapers, radio and local football clubs. Furthermore, whilst Australia isn't a divided society, there are regions with greater non-Anglo populations, a statistic that could be utilised by the AFL. Suburban matches offer similar advantages to 2005's lauded country round, whilst remaining in Melbourne.
Such a proposal is not without its issues. Travel time between hotel and the ground for players could prove a problem. By holding a game in Melbourne's outer south you risk discouraging someone from Melbourne's far north from attending. Would they have attended anyway? There are numerous questions that can be asked, but it is definitely an avenue that the AFL should be exploring.
It's understood the AFL are considering playing some matches as curtain-raisers to AFL fixtures - again, this offers positives (quality grounds, larger crowds as people arrive for the subsequent match) and negatives (fans specific to the international match would presumably have to pay for the AFL match too).
Ultimately the International Cup is the major football competition for countries playing the game outside of Australia. It is however still an amateur competition, and whilst this remains the case perhaps the AFL and the countries themselves would find greater results promoting it as an amateur competition.
Melbourne venues used in 2002/05:

Warrawee Park, Oakleigh
Elsternwick Park, Elsternwick
Trevor Barker Oval, Sandringham
TEAC Oval, Port Melbourne
Whitten Oval, West Footscray
Skilled Stadium, Geelong
Murphy Reserve, Port Melbourne
MC Labour Park, Parkville
Our suggested venues worth considering for 2008:
Waverley Park
Map
Capacity: 8,000
Seats: 2,000
Lights: No
About: Waverly Park is a former VFL/AFL venue that hosted the 1991 Grand Final. In 2001 it was sold to a property developer and underwent a transformation from a 72,000 capacity stadium to a housing estate. In its transformed state, the oval remains with one stand and it is the headquarters of former tenants the Hawthorn Football Club. Waverly Park is in Mulgrave, a suburb which falls in the City of Monash's boundaries. Monash is home to more than 163,000 residents, with 36% born outside of Australia and is easily accessible to another population hub in the City of Knox (147,000 residents, 43,000 born outside of Australia and nearly 30,000 are under 15). Unfortunately there are no nearby train stations, although Glen Waverly station, and several stations on the Cranbourne-Pakenham train line are in the area. It is nearby to Monash University (Clayton Campus) which has 25,000 students. The ground can be easily accessed from the Monash Freeway.
Casey Fields
Map
Capacity: 10,000
Seats: Unknown
Lights: Unknown
About: Casey Fields is a 30 million dollar sports development in the outer Southeastern suburb of Cranbourne. It includes three football ovals, the major of which is the home ground of VFL club, the Casey Scorpions. Casey Fields are in the City of Casey, one of Australia's top three fastest growing municipalities. It is home to more than 230,000 people, with 30 percent born outside of Australia. Cranbourne has its own train station, and Casey Fields can be easily accessed via the South Gippsland Highway.
Windy Hill
Map
Capacity: 15,000
Seats: Unknown
Lights: No
About: Windy Hill is the current base and former home ground of the Essendon football club. The ground is no stranger to International competition, having played host to the Japan Samurais vs. Melbourne-Vietnam match in 2006. Windy Hill is in Essendon and lies between Essendon and Glenbervie stations on the Broadmeadows line.
Frankston Oval
Map
Capacity: 8,000
Seats: 1,000
Lights: Yes
About: Frankston Oval is the home ground of the Frankston Dolphins in the VFL. Whilst being a small ground, it offers first class lighting. Frankston City has a population of close to 115,000 and whilst most were born in Australia, around 10% were born in the UK, a potential support base for the British Bulldogs side.
Box Hill City Oval
Map
Capacity: 10,000
Seats: 500
Lights: No
About: Box Hill City Oval is the home of the Box Hill Hawks in the VFL. The suburb of Box Hill falls in the City of Whitehorse, which is home to 145,000 people, with over 35,000 born outside of Australia (many in Asia). The oval is within walking distance of Laburnum station and is nearby to Deakin University (Melbourne Campus) which has 13,500 students.
Shepley Oval
Map
Capacity: Unknown
Seats: Unknown
Lights: Unknown
About: Shepley Oval is in Dandenong, a suburb and commercial hub in Southeast Melbourne. It is currently home to the Dandenong Stingrays in the TAC Cup, Victoria's premier under 18 football competition. The broader region of Greater Dandenong is home to 130,000 people, a staggering 56% of which were born outside of Australia. Shepley Oval has a more suburban feel than the previously mentioned venues, and could be the key to greater attendances at the International Cup, and a greater interest in Australian football amongst immigrants.
---
World Footy News
http://www.worldfootynews.com/article.php/20070905152549411