Out of Africa - and back - Allison's football journey
Tuesday, July 24 2007 @ 09:56 pm ACST
Contributed by: Brett Northey
Views: 10,326




AFL stars Michael Voss and Jason McCartney with Allison and others at a footy clinic in South Africa

Australian Football is a unique game in the way it combines so many aspects of other sports from around the world, such as Rugby (tackling and an oval ball), Gaelic football (in the running flow of the game and carrying the ball), cricket (an oval field), soccer (possession footy and the importance of foot-skills), volleyball (the underarm serve the closest equivalent to footy's handpass) and basketball with aerial contests. Any Aussie Rules fan will tell you it takes the best parts of all these sports plus many innovations of its own.

The sport has also produced some unique stories. One of my favourites to write was about Benji Motuba (see Long trek from Itsoseng to Riverland for Buffaloes vice captain) and the hope the great Australian game had brought to the young African. Also from Africa comes the story of Allison Simons' journey. Born and raised in Kenya with European heritage, she travelled to England to complete her schooling then visited Australia where she fell in love with the country and its indigenous code of football.
Allison studied in Perth and began playing footy there before moving to Melbourne to do a PhD. While in Western Australia she became heavily involved in the local women's competition, something that would be a taste of things to come. Her journey has now brought her back to Africa, where she lives in one of the townships of Cape Town, leading the way as Australian Football begins putting down roots in African communities. WFN recently interviewed Allison Simons, discussing her world footy adventure.
WFN: Hi Allison. You've been working with AFL South Africa courtesy of Australian Volunteers International since mid-2006, but can you give our readers a quick summary of your background - where you grew up and how you became involved with Australian Football?
Allison: I was born in Nairobi, Kenya to a Belgian mother (diplomat with the Belgian Embassy, now retired) and a British (now Kenyan) father works in tourism, owns and operates a luxury tented camp for tourists. I went to school in Kenya until I was 15 and then did my final 2 years of school at boarding school in England (Denstone College, Staffordshire). On leaving school, I decided not to go to university straight away as I wanted to travel. I always wanted to go to Australia so I bought a ticket to Perth (this was 1992 and I was 17) and spent the next year travelling around Australia. I had (and still have!) no family in Australia but I fell in love with Australia and its people so I decided to stay and go to University in Perth. I got a First Class Honours degree in Archaeology and Anthropology from UWA (1997) and then decided to do a PhD. I was awarded a PhD in African Archaeology in 2004 from La Trobe Uni in Melbourne. I became an Australian Permanent Resident in 2005.
The first game of footy that I ever watched was the 1992 Grand Final between the West Coast Eagles and Geelong. At first, I thought the game was ridiculous but once I had the rules explained, I was hooked!! My Australian friends thought it was their duty to teach me everything about the game and I was "assigned" a WAFL team (South Fremantle) and we went to every local game we could and to as many AFL matches as we could afford. I was most definitely addicted!
I started actually playing football in 1996 when I joined the Joondalup Jets Women's Football team in Perth. I played for them for 2 seasons (we made the GF in my first year), playing mostly in the ruck and at centre-half forward. The team folded after that and I joined the UWA Unicorns and then the Melville Dockers. I was very involved with the WA Women's football league, serving in various positions on the committee over the years. I also organised the National Women's Football Championships held in Perth in 1999.
When I moved to Melbourne, I joined the North Heidelberg Bulldogs and then the Heidelberg Tigers, where I played my last game just before getting on to the plane to come to South Africa. I played mostly in the ruck, centre-half forward or centre-half back.
WFN: How much longer are you expecting to be in South Africa developing footy?
Allison: My contract is until August 2008 so I will be here at least until then. I would like to stay on if possible and will be exploring those options early next year.
WFN: What do you see as the major challenges in developing Australian Football in South Africa?
Allison: Our challenges are many! Competing with other well-entrenched sports such as rugby could be a problem but is not proving to be as bad as expected. I think our major challenge will be resources and capacity. We are still a small organisation and we need to build sustainable programs if we are going to be successful. In the poorer areas such as the townships where we are focusing our development at the moment, the major challenges are poverty and lack of suitable playing fields. But we are working on that!
WFN: Does the Western Cape provide any unique challenges compared with other areas of the country?
Allison: Not really.
WFN: Are there particular areas you're focussing on initially?
Allison: My areas of development at the moment are the black townships of Nyanga/Gugulethu and Khayelitsha in Cape Town. Like I said, it is very important that we develop sustainable programs and it makes sense to focus our development and do it right rather than try and introduce the sport far and wide as possible and then not be able to have the capacity to manage it.
WFN: Given the obviously difficult circumstances many people live in, crime can be an issue. How do you ensure personal safety?
Allison: In terms of my safety, I actually live in the townships myself so I have built up a level of trust and familiarity with the people I work with. This helps to make me a little safer. I have also built up a good relationship with the SA Police Force in my areas of development and they provide security during super clinics conducted when we have a visiting team from Australia (such as the Convicts tour or the AIS Tour). I also recruit all of my volunteers from the township themselves so they provide a certain amount of safety too. Other than that, I just take care not to put myself in a vulnerable situation and I am aware of my surroundings at all times. In terms of the safety of our footy particpants, I am not really able to provide much of that other than a police presence at super clinics.
WFN: Do you think being a female makes your role any different? Does it have advantages and disadvantages in bringing a new sport to the region?
Allison: I think there are definitely some advantages as well as disadvantages but in general it has made very little difference that I am a woman. Although some men might have an issue with me being a woman, I have not had any direct negativity expressed to me other than by Australians themselves! I think that some of the older guys may respond better to a male coach but I try to ensure that I enlist the help of experienced male players as well as Australian male friends to help me coach the open-age teams. At no stage have I noticed that people don't take me seriously as a woman working in sports development. I believe that the notion that sport, and especially football, is a man's game is mostly an Australian phenomenon.
Allison: What was it like having a large group of touring Aussies, the Convicts, drop by to run a clinic?
WFN: It was great to have the Convicts here. They help to create a buzz of excitement around the game (imagine a bus load of white people arriving in the townships!) and really help us to spread the footy message.
WFN: Can you foresee a regular adult league up and running in the Province in a few years?
Allison: Absolutely. We have very clear targets with defined time lines to achieve those and I have no doubt that we will have a league running in the very near future.
WFN: Is there a "typical" physique of players in the area?
Allison: In general, South Africans, and especially Xhosa people, the predominant tribe here in the Western Cape, are not very tall and bulky people. In general, they are thin and athletic with amazing ball skills and speed. I liken them very much to our Indigenous players back home. I have no doubt that there will be a South African playing in the AFL in the future.
WFN: What about longer term, do you have a sense that footy could grow to hold a strong position in South Africa, and maybe one day in other countries on the continent?
Allison: I am convinced that we have a formula that will work really well in South Africa. I think we have an opportunity to do things right here and really build sustainable and growing football programs all over South Africa. If I am right, then we can easily transfer that formula to other countries in Africa. Being born in Kenya and having such close ties to East Africa (my parents still live there), I would love to see the game spread there. I will take it there myself if they let me!
WFN: That sounds like an enticing offer. It's an incredible story so far and Australian Football is very much privileged to have the services of a person with such a unique background. We wish Allison and AFL South Africa well as they spread our sport whilst enhancing the lives of people who might not otherwise get the opportunities so many of us take for granted in life.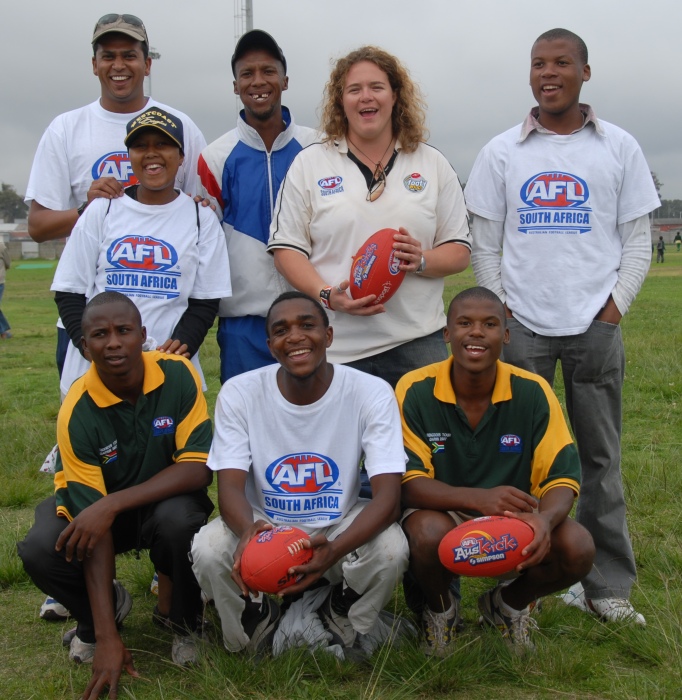 Allison and AFLSA volunteers at a footy clinic in Nyanga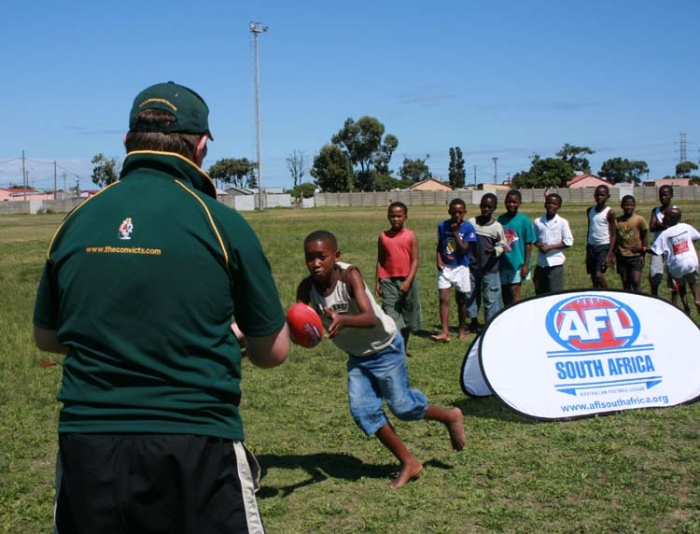 The Convicts' 2007 clinic, the first by an Aussie team in the Western Cape