Costa Logistics gives young Africans opportunity
Thursday, July 05 2007 @ 01:58 am ACST
Contributed by: Brett Northey
Views: 3,623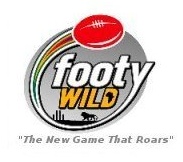 Geelong Football Club President Frank Costa has won wide praise for his efforts to rejuvenate the Cats since taking over at the end of 1998. The recovery of Geelong is still a story being told, with the team sitting atop the AFL ladder and looking to complete their rise with their first premiership since 1963. Costa's efforts extend beyond the football arena. The family company has become a major force and in addition Frank was awarded the Order of Australia Medal in 1997 for his services to youth and the community. Now Costa Logistics is combining its business, community and football passions to give young South African's the chance to play footy whilst investing resources in local communities there. Their South African arm have now committed to putting into Australian Football resources worth around AUD$200,000 per year for the next three years, a massive boost to the sport in the country that has become the focus and in many ways the litmus test for internationalising Aussie Rules.
The Costa brothers took over the family fruit and vegetable operations back in 1959 and Frank remains at the helm of what has reportedly become the largest service wholesaler of fruit and vegetables in Australia, with an annual turnover in excess of AUD$800million. Exports contribute a growing portion of that revenue and Costa Logistics South Africa has now made a strong commitment to both Australian Football and local community with the launch of a social responsibility partnership with AFL South Africa last weekend. The setting was Alexandra, a densely populated shanty town in the heart of Johannesburg (Gauteng Province). AFLSA's Ambassador and Gauteng Provincial Development Manager Mtutuzeli Hlomela, very much the face of AFLSA, mentioned that up to 80,000 people live inside just one square kilometre.
With little notice staff were able to rustle up plenty of children (around 80) that wanted to experience the African equivalent of Auskick, called FootyWild. "The recent public service strike in South Africa has meant that schools have not been operational for over a month and it was obvious that these kids were crying out for some structured activity," said Mtutu. "We want to give these kids opportunity". Using a cricket ground overlooking the township, AFLSA staff taught them the fun basics of the sport.
Costa Logistics South Africa CEO Anthony Jackson said "The company sees the Footy Wild program as a unique way in which to have a positive impact on communities across the nation. Through daily and weekly programs, FootyWild has the potential to engage children, their parents and community volunteers in an organised activity, focussed on developing both physical and social skills".
AFLSA report that the partnership is a National sponsorship arrangement extending across the four Provinces in which AFL South Africa is now working. The three year commitment, valued at approximately 3.6 million Rand (around AUD$600,000 or US$515,000), will provide participation opportunities for over 16,000 FootyWild participants by the end of 2009. Importantly the partnership goes well beyond a cash injection with Costa Logistics providing Gauteng office accommodation and support, training for AFLSA staff and even the possibility of a strong volunteer army to support the FootyWild program in Alexandra.
AFLSA Executive Officer Jean Verster said that "We aim to embrace the Costa philosophy of 'hiring for character, training for skill', as we steadily build a team of committed local staff and volunteers that will become the cornerstone of our participation growth plans". It seems the good news stories are coming thick and fast. We won't see dramatic results by the time of the 2008 International Cup, to be staged in Victoria, but within three or four years it isn't unrealistic to expect young South Africans to be making their way into the AFL and a powerful national side emerging. A lot of work has to be done between now and then, but the building blocks are in place and the count down is on.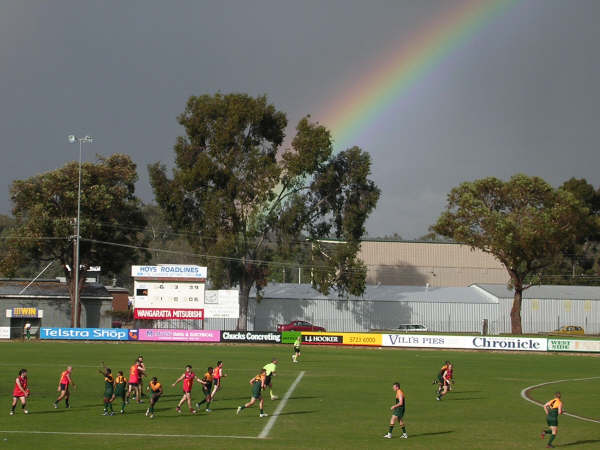 The Rainbow Nation in action against Spain in Wangaratta at the 2005 International Cup.