French officially sign on to national sports body
Wednesday, April 04 2007 @ 10:02 am ACST
Contributed by: Aaron Richard
Views: 6,354

After months of planning, the French footy scene has finally officially affiliated with the Léo Lagrange National Sports Union, creating the Commission National de Football Australien. Léo Lagrange is an organisation representing over 100 different sports in France, with over 400 member clubs, 50,000 individual members and an emphasis on youth involvement.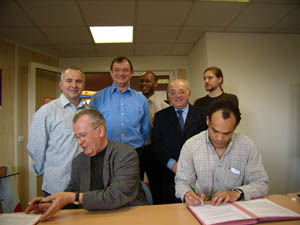 The agreement between the UNS Léo Lagrange and captains of the Strasbourg and Paris clubs was signed on February 28th, giving the French an official route for funding and development.
The plans for a regional league between French, Dutch, Belgian and Spanish clubs is still in planning, although serious steps towards organising the competition will probably have to wait until after this year's EU Cup.
Although the Strasbourg Kangaroos withdrew from AFLG league play this year (and returned to their old name), the French are maintaining contact with their German counterparts, hosting the Frankfurt Redbacks for a friendly last weekend, the Redbacks running out 36-30 winners. Reports are also that a number of Strasbourg players will be helping to fill out the teams in a few AFLG matches this year, the next engagement planned for the April 14th clash between Frankfurt and the Rheinland Lions at the Frankfurt Ostpark.