For the Revos and Northwind the road to Melbourne begins in Houston

| | |
| --- | --- |
| | The Revolution head off down the road to Melbourne 08 by hosting the Canadian Northwind in Houston on January 20 2007. According to the Revos, "the road to the 2008 International Cup begins in January." 2007 is a big year for the American Revolution as they prepare to win the 2008 International Cup. USFooty has brought in a new head coach, Trevor Lovitt and Trevor has brought in new coaching staff including former head coach and American Revolution player Tom Ellis. The Revos have a home and away series against the Northwind and team practice and selection at USFooty's East vs West All Star game weekend. The first match against Canada is in Houston on Saturday 20th January, the All-Star weekend is set for May 19 and the second game of the Revos/Northwind series will be in Vancouver in August. USFooty is also looking to have an early game in Houston featuring Revos hopefuls (see USFooty website for more details). Read on for more details of how the US are preparing for 2008. |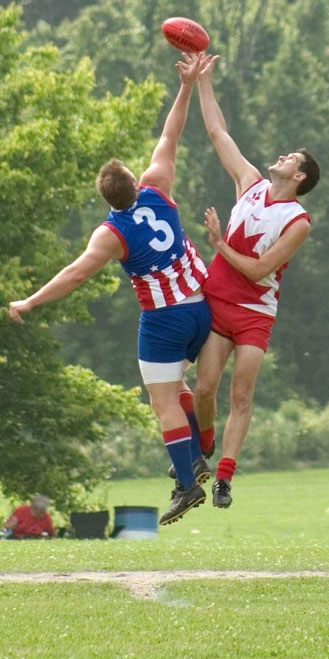 In November, USFooty named Trevor Lovitt to the head coaching position. Lovitt was an assistant coach at Frankston in the VFL and a recruiting officer for the Port Power. USFooty decided to go with Lovitt's experience in Australia over the American and former Revo standout, Tom Ellis. The nationalities were balanced out with the appointment of former Frankston champion and current Las Vegas Gamblers Head Coach, Mick Ablett, and former Revo and current Minnesota Freeze Head Coach, Jason Becker, as assistant coaches. According to Becker, "Trevor has incredible experience in both coaching and selecting. He has also been clear with his assistants that we are to be vocal, active, assertive and creative. I can't see how we could ask for a better environment to work toward winning the International Cup in 2008."
The Revos are looking to cement their place at the top of international footy with a win at the International Cup. The team finished their 2002 campaign with a 5th place finish and their 2005 campaign with a 3rd place finish. However, in defeating Ireland twice and coming within 1 point of beating PNG, the Revos gained some confidence and realized that they could compete with and beat the best teams in International footy. According to Becker, "make no mistake; we are in this to win it."
To do this the Revos will have to contend with the tyranny of distance. Players are spread across the US with thousands of miles and hundreds of dollars in air travel between them. The two games and the All-Star weekend combine game experience, training and selection. Around 80 players are expected to be in Houston to train, practice and play against the Northwind. But while most won't make the team, Becker believes this is valuable experience. "Even the guys who don't make the final squad to Melbourne in 2008 will take new experience back to their home clubs. This helps the player's home club, the league as a whole and reinforces the base for the Revolution in 2012 and beyond. Some of the best practice a US footy player can get is playing against, and alongside, top talent. It's not easy to substitute for that kind of experience." Further, the Revos will "also be doing some training and fitness work which are designed to add an objective component, in addition to keeping players focused on individual improvement during the time that we're not all in the same city. I've always believed that the American Revolution has never been beaten on effort. We'll be working hard to ensure that we'll not be beaten on fitness or skill either." Some of the veterans of the 2002 and 2005 campaigns will not be returning to Melbourne in 2008 (at least not as players). Ellis and Becker will return as coaches, but the Revos also say good bye to a number of talented players. According to Ellis 2007 should be a productive year for assessing the talent and potential of the younger players coming through the USFooty ranks.
In the lead up to the 2005 International Cup the Revos had team members playing in Australia at various suburban and country clubs in order gain valuable experience. This year again sees numerous Americans heading down under to play. In particular, Jared and James Brunmeier have headed back to Australia to play for the West Perth Falcons for the 2007 season and Andrew Lamont will be in Sydney for the start of the academic year to play for the Macquarie University Kookaburras.
Houston. The Revos are Go.
Find out more details at the Houston Lonestars website.