New Zealand junior programs at a crossroad?
Tuesday, December 19 2006 @ 07:41 am ACDT
Contributed by: Jake Anson
Views: 4,631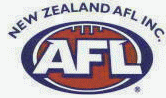 A recent article in the Auckland press sheds light on one of New Zealand's young up-and-coming players and exposes some of the key difficulties involved in growing junior football participation in the Land of the Long White Cloud.

The Howick and Pakuranga Times, a publication focused upon Auckland's Eastern suburbs, recently ran a feature article on Sam Baxter, a promising player with University Football Club in the Auckland AFL. According to the Times, Baxter has been juggling his commitment to school and representative rugby union sides with his love of Australian football, which he plays on the wing for the Blues.
Baxter came to Australian football through the encouragement of his high-school physical education teacher, Steve Kumarich, who plays for the Blues and saw great potential in Baxter's long kick and speed. His talent with a football comes from many hours of kicking a rugby ball around after school, and according to Kumarich, Baxter regularly gains in excess of 50 metres with his booming left boot. Despite his proficiency at the Australian game, the 16-year-old is undecided whether his sporting future lies across the Tasman.
"I don't need to make a decision on either sport at the moment because I've been able to play both at the same time, so I want to continue enjoying myself," Baxter said in an interview with Times reporter Dean Wedlake.
In many ways, Baxter embodies many of the challenges facing Australian football's growth in New Zealand. A talented athlete - he has represented New Zealand internationally in BMX as well as representing Auckland in rugby - Baxter's interest and participation in Australian football occurred because of a chance encounter rather than through organised junior and school football. The lack of those important development structures in New Zealand has seen the sport's growth stagnate, because few of the young Kiwis that are exposed to Australian football are graduating from junior programs to boost adult leagues.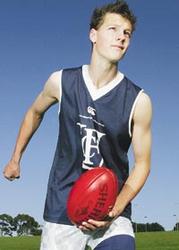 In recent years the NZAFL has employed development officers on a part-time basis to conduct school clinics, and these have been moderately successful in exposing several thousand students to Australian football. However, because of the absence of structured school and extra-curricular competitions, few have gone on to compete in the four adult provincial leagues across the nation.
The Sydney experience has highlighted the importance of providing pathways for students participating in school clinics to become involved in structured junior football and, later, senior competitions. While clinics and adult leagues have operated successfully in Auckland, Wellington and Christchurch for years, essential junior competitions have never existed to link the development process together.
There may be moves afoot in Auckland to change this. Reports from the Auckland AFL's Grand Final day mention an U/16s match being played, representing two of the league's clubs. This may be a development brought about following the participation of a New Zealand U/16s side in the Barassi International Youth Tournament earlier in the year. Unfortunately, information on the development of Australian football in New Zealand has been difficult to come by following the resignation of NZAFL General Manager Rob Malone to take up a Rugby administration role. New Zealand possibly is suffering from a redirection in the the AFL's development focus towards South Africa, the main result of which is possibly budget uncertainty for AFL-funded junior development programs already in place.
Compounding the problem of growing junior participation in New Zealand is a lack of high-performance structures and a clear pathway to a professional football career. Sam Baxter has no-doubt benefited from rugby high-performance structures, but it is not clear to what degree playing in the senior University Blues team has helped or hindered his development in Australian football. Being unable to test his skills against players of a similar age, it is difficult to gauge his potential to play at a higher level. This, and New Zealand's isolation from football recruiting networks, makes it less likely that he will be noticed by scouts from professional Australian clubs, and more likely that he will choose to pursue a professional career in Rugby.
However, the news is not all bad for junior football in New Zealand. The AFL's experience in growing the sport in NSW and Queensland might indicate a positive future across the Tasman. Developing juniors in regions lacking a footballing-tradition and recruiting players from other sports have been strong points of the AFL's northern push. The New Zealand sporting landscape parallels that in Australia's northern states in many aspects and, with a growing body of Australian football administrators with expertise in expanding the sport's reach at home, New Zealand may be able to employ ideas from Australia and build structures that will guarantee a strong player-base for decades to come. While such a task is no mean feat, junior Australian football in the Land of the Long White Cloud seems better placed than many places to stake a claim on the youth sporting scene.