Barassi backs Convicts in South Africa
Sunday, December 10 2006 @ 01:33 pm ACDT
Contributed by: Aaron Richard
Views: 3,781

The Australian Convicts, a side of amateur players from around Australia, will tour South Africa again for two weeks next February and March playing three games, one against the South African national team. The players will also hold juniors clinics with local children. "Mr Football" Ron Barassi has also recently come on board as patron of the Convicts, featuring in Melbourne daily newspaper the Herald Sun.
On Wednesday February 21 the Convicts will conduct their first coaching clinic for South African kids on behalf of AFL South Africa - an extremely rewarding experience and one of the highlights of the trip. This will be followed on Thursday the 22nd with a match in Potchefstroom against North West Province.
In the afternoon of Friday the 23rd the Convicts will conduct their second coaching clinic for local kids in mining town Rustenberg, with their second match against against North West Province on Sautrday the 24th. After the match, a formal reception will be held and the Convicts Cup will be presented to the winning team.
After a few days' sightseeing, Wednesday 28th February will see the Convicts play their third match in Soweto against South Africa's National Team, the Buffaloes. The Buffaloes have made great progress in recent times and will be eager to avenge their loss to the Convicts in 2005.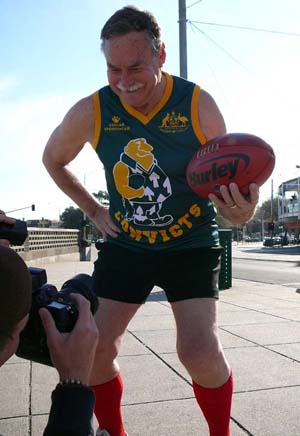 Ron Barassi has been a high-profile supporter of international Aussie Rules for some time now, and has recently come onboard as official patron of the Convicts. Barassi, often nicknamed "Mr Football" and considered one of the greatest to have ever played the game, is a common sight at International Cup matches and has given his name as symbolic head of the Barassi International Youth Tournament, Aussie Rules' youth world championship.
The tour will be the third for the Convicts, after they toured Europe in 2003 and South Africa in early 2005. Our sources suggest the visit has even been mentioned in the AFL Strategic Plan for South Africa in 2007 - more news on this as it comes to hand.
Players interested in joining the tour can find more information at the Convicts' website.