US, Ireland and Oceania writers sought
Monday, November 06 2006 @ 09:20 pm ACDT
Contributed by: Brett Northey
Views: 4,474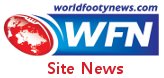 It's time for the crew at WFN to put out another request for assistance. With the steady ebb and flow of work and life commitments of our volunteer reporters we are currently in need of help covering three regions.
Coverage of the United States has long been provided by Troy Thompson and he will continue to do so in a reduced form, so we need someone to help him out with this ever growing market. There are plenty of interesting stories to be told such as reviews of recent new clubs, league changes, a new travel arrangement and the growing numbers in the women's version.
Oceania describes the general region around Australia, but specifically we need someone to do the occasional story on the powerhouse footy country PNG, and the emerging programs in Samoa and Tonga.
We also need some help with Ireland. In all cases we can provide plenty of contacts and no particular computer skills are required - we'll show you how to upload your stories. So if you have an interest in supporting international footy and getting a behind-the-scenes view on the game's growth, then consider volunteering to write for WFN. Contact Brett here for more information.