Young Tongan loving his footy and time in Adelaide
Sunday, July 02 2006 @ 03:23 pm ACST
Contributed by: Peter Parry
| | |
| --- | --- |
| | Alexander Fangavaka, aged 14, is the second young Tongan lad to gain a TAFA (Tongan Australian Football Association) footy scholarship to Australia and the first to be based in Adelaide, where he is studying and playing at Norwood-Morialta High School, which has a strong history of football. He's also playing club football for Hectorville "Heccies" under-15's in the South Australian Amateur Football League and has attracted plenty of media attention. |
The footy scholarship is generously funded by Pacific Timber and Hardware. According to Mark Korsten, an Australian government worker in Fisheries Development in the South Pacific who helped found TAFA and now coordinates the scholarship:
"TAFA Scholarships currently focus on providing participants with a 6 month introduction to Australian culture, education and Australian Rules Football. It also allows TAFA to more accurately assess the student's maturity, sporting and academic potential prior to consideration for higher level scholarships. Australian Rules Football was introduced to Tonga with the formation of the Tonga Australian Football Association (TAFA) in 2003. Since then TAFA has grown steadily to introduce both Primary Schools (male and female) and High Schools programs, the TAFA Boot Orphanage (for recycling discarded sporting equipment), a national schoolboys tour of Western Samoa and now a second scholarship to Australia."
Alex resides in Adelaide's north eastern suburbs with his host family where the father Vik Teumohenga is from Tonga originally. Vik says Alex has settled in really well with the family, school and club and is growing in confidence daily with his English, school and club commitments and adjustment to life in Australia.
Vik confirmed that Alex's story has also caused some interest in the Tongan expat community in Adelaide. This would be in line with recent views from AFL Talent and International Manager Kevin Sheehan (see WFN story and Welcome to the AFL on AFL website) that similar initiatives can tap into Australia's multicultural tapestry to expand the involvement in Australian Football both in Australia and overseas. Alex's support comes from three families: Teumohenga (Alex's family here), Sikalu and Niumeitolu - all Tongan men married to Aussies. Assistance from the Tongan government and community would be most welcome.
WFN visited Alex at training with the "Heccies" under-15's at Daly Oval, Magill. Alex said he loved being in Adelaide and was enjoying footy and life in general. He said he'd only played a little bit of Australian Football in Tonga, but like his brothers back home had played quite a lot of Rugby.
Tonga is an archipelago of islands south of Fiji and Samoa and Alex attends boarding school on the central island Tonga'tapu, about 5 km from his home village. He got into footy in a manner akin to something from Tom Brown's schooldays when he and a group of fellow students, without the knowledge of their school, entered a team in a TAFA footy carnival, the ASCO Cup, curious about the game and with eyes on the advertised prizes. They were reportedly in big trouble with their school for this unauthorized absence from their boarding house, but all was apparently forgiven when they delivered the winning team prizemoney to the principal's office!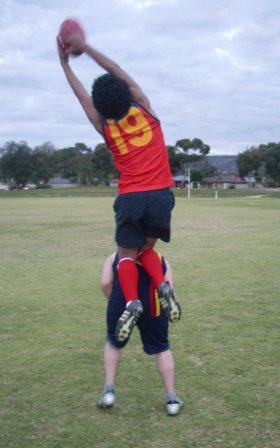 Down at Daly Oval, Heccies under-15 coach, Bill Leo, said he'd been very impressed with Alex's attitude and athleticism. There was still a "lot of rugby" to Alex's kicking and he was still developing the knack of handpassing fluidly, but his attitude to training was exemplary. WFN observed him bouncing the ball at pace (albeit two handed) faster than most team-mates and his skills at marking, dodging and general athleticism were impressive. He was clearly popular with his team-mates. Bill said Alex's attack on the ball and tackling in matches was intense and fearless, and had gotten him off-side with the umpires initially but he was a quick learner, and Bill felt Alex could go far with his new sport.
At 177cm, a lean 70kg, blessed with athletic ability and still not 15, Alex (pictured at right taking a staged hanger) epitomizes the belief in TAFA that some South Pacific islanders will be playing in the AFL one day - they cite that there are over 100 expat Tongans playing professional Rugby and American Football. Alex says he would like to make the AFL, but only time can tell - at the very least he is having a great experience and will take back much when he returns home, life skills as well as Aussie Rules skills to put onto the playing fields of Tonga.
Besides footy, Alex also plays euphomium (similar to a tuba) for the Tea Tree Gully Redbeck brass band and the school band. The Redbeck will be performing at the Playford Civic Centre on Saturday 8th July at 7pm for any locals interested.
WFN had the pleasure of taking Alex to his first AFL match, Adelaide's record win over Essendon. The crowd of 42,000 was equivalent to nearly half the population of Tonga, all jammed in to one stadium, a point not lost on Alex, who studied the play intently all through the game.
Alex's story has been taken up by the media, with a frontpage article "Tonga toys with new ball game" in the suburban East Torrens Weekly Messenger, and "Tonga lads on the ball" by Sarah Garvis in the statewide "The Advertiser" on 13/6/06. The Advertiser article quotes further details from Mark Korsten regarding TAFA scholarship expansion plans: "The 6 month scholarship is really only a taste test for both TAFA and the student. Those who have potential will form a group who will be eligible to return to Australia at a later stage if funding and opportunities become available. This will be an academic scholarship for 12 or 24 months with a large focus on AFL presentation through the draft camp."
Mark has also indicated to WFN that TAFA welcomes any Australians visiting the South Pacific paradise for a "working" holiday of umpiring or coaching assistance. 9-a-side teams or full size visiting teams would also be welcome at all age levels. However be warned - HMAS Parramatta were convincingly defeated by the Tongan senior side, The Marlins, in the Tongan national team's first competitive match. Plans are well underway for further relationships with the Australian Football community, and with the AFL's recent plans to interact more closely with international groups, the future looks bright for the meticulously planned Tongan program.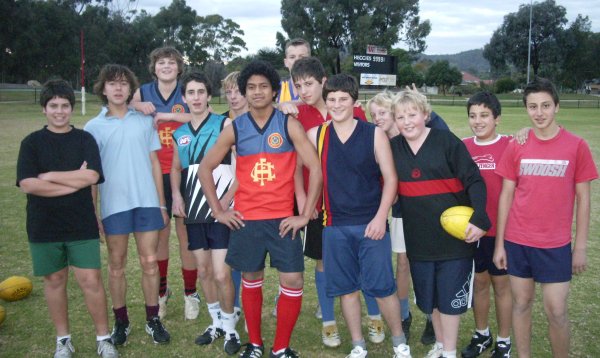 Alex pictured at training with some of his Heccies under 15 team-mates.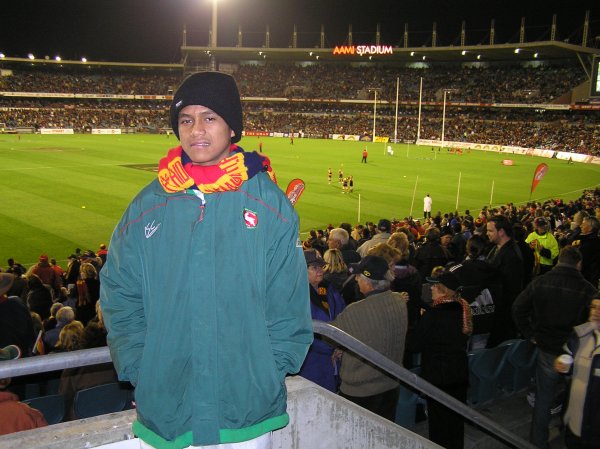 At the Adelaide versus Essendon match at AAMI Stadium (a halftime juniors match in progress in the background).
---
World Footy News
http://www.worldfootynews.com/article.php/20060624225314292