WFN welcomes new reporters
Wednesday, June 28 2006 @ 05:36 am ACST
Contributed by: Brett Northey
Views: 2,903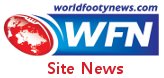 worldfootynews.com is pleased to welcome several new correspondents, after our recent call for more volunteer writers. With Aussie Rules continuing to grow their assistance in bringing you the news will be most appreciated. We now have changes in place for Asia, Canada, and a new portfolio for the Middle East and the Indian sub-continent.
Ben Leahy comes into the Asia position, replacing Brendan Cunningham who reluctantly decided to step aside due to increased business commitments. Ben will also assist with coverage of Oceania, including the booming Papua New Guinea program, with Jake Anson scaling back his efforts to focus primarily on New Zealand.
Ash Nugent will report on previously quiet regions, in footy terms, of the Middle East and Indian sub-continent, covering areas such as Israel, Lebanon, India and Pakistan. Hopefully these areas will develop further in the not too distant future.
Matt Riggs takes on Canada, whilst recent addition Michael Shipley will contribute occasional stories for that country.
At this point our Ireland vacancy, left by Matt Guthrie, another victim of employment pressures interrupting volunteer work, is probably still open. And more support is still welcome to spread the load.
To learn more about WFN writers, visit our About Us section and click on the names to see their Bios.