Central Blues boost OAFL
Thursday, June 08 2006 @ 01:34 am ACST
Contributed by: Brett Northey
Views: 3,397

| | |
| --- | --- |
| | The Ontario AFL has had a bit of a setback in 2006 with the loss of the Windsor Mariners and London Magpies, two struggling regional clubs, but this has been partially offset by the arrival of a new club based in Toronto, the Central Blues. We talk to club-founder Bruce Parker. |
The OAFL is one of the stronger leagues outside of Australia, and has clubs scattered around Ontario, Canada. Bruce Parker is one of the league's stalwarts, playing his first season back in 1994 with Mississauga at the age of 24. That year Mississauga won the premiership, its only one. "I had no idea at the time just how special that was. Looking back though it meant a lot to me and I think that's why I'm still playing this game. I became club president in 1998, AFL Canada President in 1999". His involvement has been crucial in starting new clubs. In 2000 the Canadian left Mississauga to start Guelph Gargoyles with his brother who lived in the area.
Parker's long career includes 125 regular OAFL matches and he's aiming for 200. He represented his country from 1999 to 2001, but injury cost him a shot at the inaugural International Cup. Sadly he missed again in 2005, "This past August I was just not enough for the coaches in their eyes".
The spur for starting the Central Blues came during the last International Cup when he decided to travel Down Under anyway. "I was talking to my wife on the train to the Telstra Dome last August about maybe starting a new club closer to home as the drive was taking a lot out of me; emotionally, physically and financially. It would cost me $1500 a year to drive to practice twice a week and then again on the weekend for games. Plus with rush hour traffic it was two hours in traffic to get to practice, it just got to be too much to drive out there and I had helped build a great administrative group to run the team so I felt that if I left the team it would not go to pieces and eventually fold due to a lack of leadership".
So in the off-season the new club was formed by Parker and former Guelph members Rob Chapman and Rochelle Allen. The new side is based near the University of Toronto main campus. "The university is located 10 blocks north and 2 blocks west of the CBD. Depending on the training ground it's a 2-10 minute walk from the subway, there is a tram that stops at right at the one of our fields and there is a city bus that pass by both our field and our sponsor pub".
With two existing Toronto based clubs, at least in name, the question is raised as to whether the city can support multiple teams. Parker is strongly in favour of even more.
"Actually there is technically 5 other teams in the city of Toronto. If you were to compare Toronto to Melbourne geographically I think that Toronto is a little more compact as it is about 700 sq. km in size - 43km x23km roughly. And about 3 million inhabitants. So there is lots of area for teams to be started, pretty much all of the North and East parts of Toronto are unclaimed by clubs. Toronto Eagles are in the North west corner of the city. The Kangaroos in the west to south west corner. The Toronto Dingos are mid town probably 6km north of the CBD, the Rebels used to train along with the Hawks about 6 km east/south east of the CDB. Now the Hawks are looking for a new ground and the Rebels have moved a few km north of the Dingos. So we are finding our space. I wanted to align with some downtown schools and the university to draw players from. I think it is a great sign for growth in Toronto. I see no reason for there to be another 6 clubs in the city. Just need to find the people to start clubs.
Most of the Canadian national side to date has been composed of Ontario players, but with BC and Alberta adding new clubs and a great junior program in Vancouver, this may start to change in the next 5 years. If Ontario is to hold its premier position in Canadian footy, it will almost certainly need to get junior competition developed more systematically. Parker hopes to do just that. "We intend to get under 19 and under 17 going, we are hoping a couple of other clubs will join us this season in that endeavour".
With big plans, do the Blues have enough players in their first year to get through the season, and are they attracting locals? Absolutely. "Right now I have 22 players on my list. Four Australians the rest Canadians. Four are from other clubs. Myself and Rob Chapman (pictured firing out a handball in a pre-season match against Etobicoke) came from Guelph, one player from Hamilton who had moved to Toronto in the off season and one former Dingo who had some friends who were interested in playing but would not have got much opportunity to play on the Dingos club".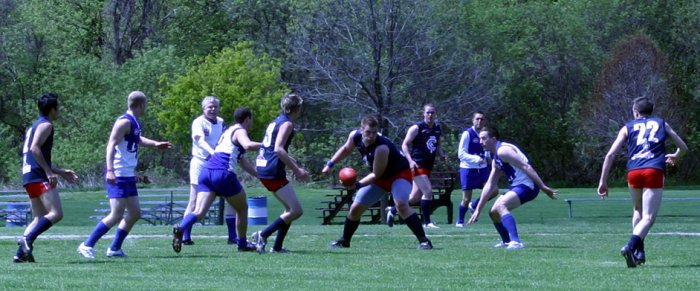 Before the season started WFN asked Parker if he thought his club would be competitive first up. Any good clubman will of course say yes, but Parker had some good reasons to back it up. "I think we will be competitive this season. Having started Guelph I have a bench mark for success. I have more players on my list now before the first round than I did with Guelph in its first two games. In the last two weeks of practice matches I have seen tremendous improvement in the game play. We have begun to string together several passes and press the attack into our forward line. A little more confidence with this team and goals will start to happen".
The new boys are now two games into the OAFL season. First up they went down badly to their kin, Guelph, 14.12 (96) to 2.2 (14). New clubs have had worse starts to seasons (some 200 plus point losses have been suffered this season to a new club in England), so despite the score resembling their namesake's the Carlton Blues, it was a good first up performance for such a raw group. The Gargoyles honoured Parker, retiring his number 11 jersey.
Speaking after seeing Guelph in the pre-season, Parker reflected on his feelings. "I take a lot of interest in the club. And do follow them closely, I have a lot friends I made on the club and I have a lot of respect for those players. They are looking great coming in to this season and will be fighting hard for a spot in the final five. I'm confident I left the club in great hands when I left. It was hard this past Saturday to see the boys and not be a part of that huddle before a game".
Ironically next up for the new club was Parker's other old team, Mississauga. Again there was no on-field charity, with the Blues down 13.18 (96) to 0.1 (1) in wet conditions.
Still, a competitive start and hopefully just the beginning of another strong club in the league. If juniors can be developed in Ontario then footy will be looking very healthy right across Canada.