Wildcats too good on tour in Catalonia
Wednesday, April 12 2006 @ 01:01 pm ACST
Contributed by: Aaron Richard
Views: 2,282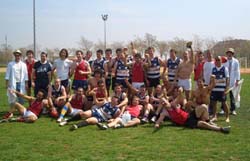 British power club the West London Wildcats last weekend visited Barcelona for a match against Catalan 2005 champions Belfry Valls. The match was held at La Taixoneras Rubgy Field, with the Wildcats running out 76-point winners, 16.9.105 to Valls 3.11.29. A good time was had by all, as is the tradition on the increaingly regular BARFL preseason tour matches and the Catalan players came out of the match feeling they'd learnt a great deal through playing against the experienced Australians of the Wildcats squad.
Pere Casan from the Catalan camp said of the match; "of course, though, they beat us bad, as was expected, but it was all fun anyway.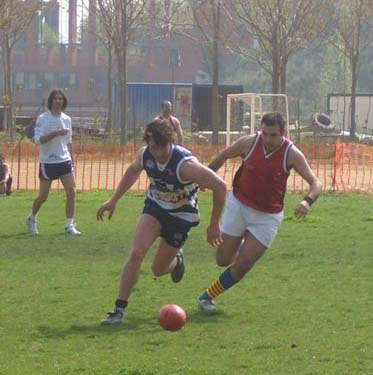 "It was a great day of footy and a nice weekend in which all the Aussies of the West London Wildcats were able to enjoy the city of Barcelona, its weather, its people and its drinks! I was also finally able to hear the aussie accent, which I love, and practice some more on the challenge to try to understand some of the sentences you say. The Belfry Valls also had a nice time, and they could especially learn a lot from the Wildcats aussie style - just remember we do not have any aussie in our league, and we've learnt by watching the game on TV or the internet".
The Australian Football League of Catalonia this year will spread geographically, with teams taking on a more solid base in the cities of Tarragona, Valls, Lleida and the Catalan capital Barcelona. 2007 may see the St Esteve Saints from Perpignan join the league as a fifth team, representatives of Northern (French) Catalonia.
West London now have the BARFL season to look forward to after a busy pre-season, recently playing an international rules fixture in north-western Ireland in addition to the Barcelona visit.