Strasbourg defeated but not disgraced in season opener
Tuesday, April 04 2006 @ 06:48 am ACST
Contributed by: Aaron Richard
Views: 2,637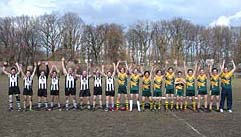 The Strasbourg Black Devils played their first two matches in their new colours, hosting the North London Lions then making the long road trip to Berlin to meet the Crocs in their first-ever AFLG appearance. While the Black Devils went down in both matches, they were far from disgraced - the all-Australian Lions team beating them 124-55 and the Crocs actually trailing at quarter time before their experience allowed them to pull away.
The AFLG's newest club made the AFLG's biggest ever roadtrip for their first ever match, taking the field at Schiller Park Berlin last Saturday, April 1st. 100% French and relatively new to Aussie Rules, the Black Devils began with a bang - kicking four straight goals in the first quarter to lead the home town Crocs 4.0.24 to 2.3.15
Although both sides were missing a number of regular squad members, the Crocodiles had a strong core of experienced players from the 2005 season, who turned the match around to hold Strasbourg scoreless in the second term and take a 37-24 lead into the halftime break.
Both teams managed a solitary goal in the third quarter, but Berlin again dominated the last term, kicking 4 goals and 5 behinds to Strasbourg's two points. The final siren saw Berlin 10.15.75 to Strasbourg 5.3.33.
Best on Ground was Haroon Yousufy from Berlin with four goals, Pascal Coquis the best for Strasbourg. Strasbourg's next match will be at home on the 22nd of April, when they host the Hamburg Dockers. The Dockers recruited well in 2005, finding some strong Australians to add some punch to what had been previously a fairly young and almost entirely German squad. They weren't seen on the paddock last weekend due to members of their squad having been involved in a car accident (although they escaped unhurt) en route to their match against the Rheinland Lions in Cologne.

The previous weekend, Saturday 26 March, the Black Devils hosted the North London Lions, a team with a history of pre-season tours across Europe, having defeated the Madrid Bears and AFLG Allstars by significant margins in past, and going down narrowly to the Swedish national team a couple of years back.
Strasbourg held with the Lions early, but the experience of the Aussies was too much with the game being blown well open in the third quarter, North London running out 124-55 winners.