Three Days of Footy at the Wellington Boot Invitational
Thursday, February 09 2006 @ 12:41 am ACDT
Contributed by: Aaron Richard
Views: 2,159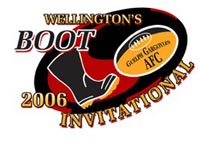 Canadian club, the Guelph Gargoyles will this August host the first Wellington Boot Invitational tournament, featuring three days of football with live bands and other entertainment between games. Organisers are hopeful of clubs from Japan, Ireland, Britain and the United States in addition to the Canadians in attendance.
The "Wellington's Boot Invitational" is described as a tournament aiming to "create enthusiasm for our sport throughout international leagues". According to organisers, "the Guelph Gargoyles AFC have decided to invite several of their favourite clubs that we like to cheer for, but would like to play against even more one day".
The tournament will start off Friday August 4th 2006 with the "Golden Boot Competition", open to all tournament registered players who think they have what it takes to represent their club with the longest measured "Goal", the "Golden Boot" and up to $500.00 along with bragging rights being the first prize. This will be followed by three days of non-stop Australian Football action along with live entertainment in between matches.
The winning club with the most accumulated points in round robin play will win the "Wellington's Boot" and up to $1000.00. For more information contact the Guelph Gargoyles via their website.