Aussie Rules Gets a Big Kick Out of Ben in NY
Tuesday, January 31 2006 @ 03:59 pm ACDT
Contributed by: Troy Thompson
Views: 5,028

On a very chilly Australia Day, the New York Magpies were hosted by the Chelsea Pier Golf driving range (in Manhattan) in an event that signified the small but steadily growing steps of influence that Aussie Rules has on the United States - the Magpies bringing the game of Aussie Rules to their city and Ben Graham bringing his Aussie Rules big kicking leg to the NFL's New York Jets. In addition to Graham's participation in the longest kick competition, he also showed willingness to take some training sessions for the Pies and attend games where possible, in a potential publicity coup for the Pies.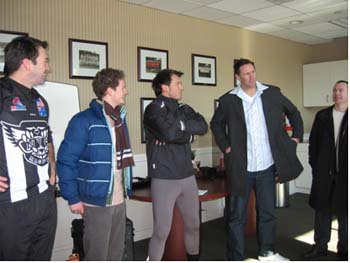 The Magpies' Australia Day festivities were planned to both promote their club and to raise funds for cancer patient Dylan Hartung from Melbourne, who needs financial help with experimental treatment for neuroblastoma. Ben Graham, who is stuck in visa limbo waiting for vital papers to be renewed, had intended to come back to Australia during the break before training begins again on March 24. Unfortunately, those visa issues see him and his family spending the break in an icy New York City winter.
This has, however, worked out nicely for the New York Magpies. He graciously agreed to attend and host the event and was a big hit, spending many hours chatting with fans, signing autographs and posing for photos. He indicated his willingness to take training for the Magpies and possibly attend games if possible - a huge boost for the club.
The thermometer read zero degrees Celsius, and a strong headwind did not make for the best kicking conditions. The long kick contest held on the day was won by Sean Patton, picking up 2 flights to Australia with a kick somewhere over fifty metres considered good in the conditions. Second was Rueben Murray who received $1,000 credit at the Sunburnt Cow (which in great footy club tradition Rueben donated to the footy club). And third prize went to Bruce Cameron picking up 10 tickets to Down Under event
The Magpies got a good plug in on the Fox 5 Good Day NY program held at the Sunburnt Cow with live crosses to the venue for the free Australia day breakfast there. You can see a clip of the show via this link.
The Melbourne Herald Sun also covered the events, as can be read here.
The Magpies hope to make this an annual Australia Day event and that it will grow in coming years.