Southern Sweden three-tier league in 2006
Monday, January 30 2006 @ 12:11 am ACDT
Contributed by: Aaron Richard
Views: 3,036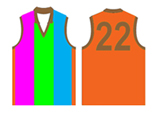 Southern Sweden will this year play football across three levels of competition, with a 4-team Scania league feeding into a 3-team regional league. The best players from the regional league will continue to compete as the Southern Saints in the DAFL Premier League.
Colorful new inclusions to the regional league include the Landskrona Bulldozers (jumper at left) and the Göteborg Beserkers, set for their first year of regular league play after a few years of hard work getting off the ground.
Scania League (Skåneligan)
The local Scania scene has performed quite well in the last few years since the DAFL restructured, going from a struggling Helsingborg Saints club of only around 10 diehards footballers to a three team league with over 50 regular players.
This year, the Helsingborg West Raptors and Lund Magpies will be back, with the Port Malmö club splitting into two squads - Limhamn and GV Malmö. Limhamn's colours and nickname are yet to be announced, but the GV squad will wear the purple and gold jumpers of the Goulburn Valley FL's interleague squad, from one of the top leagues in country Victoria.
The Scania Home and Away season will see each team play six matches, with a two game finals series (2nd vs 3rd to determine who meets 1st in the Grand Final).
Regional League
The Regional contest will comprise three teams. Helsingborg West and Lund will combine to form the Landskrona Bulldozers and the two Malmö squads will come back together as the same Port Malmö Maulers outfit that has been the team to beat in Scania footy over the past few years.
A mystery quantity are the Göteborg Beserkers, who first formed in 2002 but didn't play a match against outside opponents until last year. A set of Collingwood jumpers in hand, the Beserkers will be hoping to get a stable and solid club onto the park.
Each side will play four matches, with 1st and 2nd meeting in the grand final.